---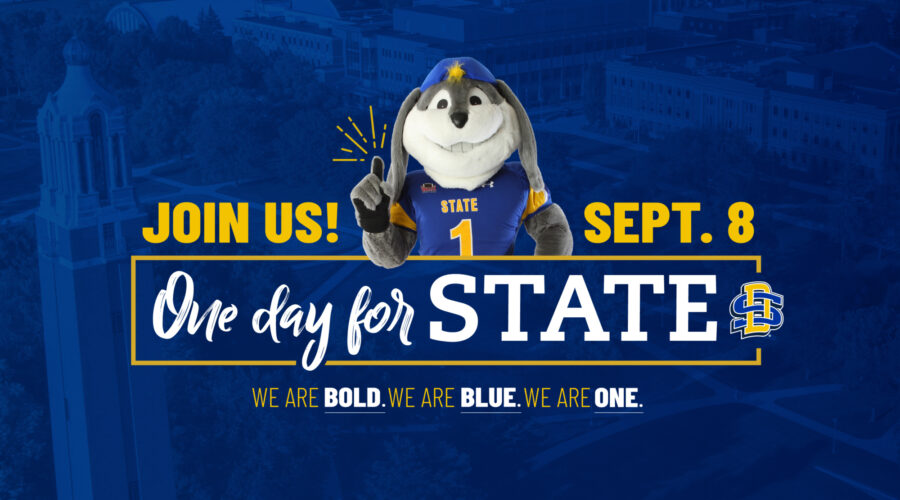 On Thursday, September 8, the SDSU Foundation will be hosting One Day for STATE, a 24-hour challenge for Jackrabbits to unite as one, celebrating SDSU and the impact of philanthropy.
Last year, thousands of donors from across the world joined together to raise $1.9 million for Jackrabbits.
This year's goal is once again rallying 5,000 donors in 24 hours.
Gifts of all sizes make a difference, especially with additional funds from our generous challenge donors waiting to be unlocked! This big goal needs an even bigger response from the SDSU community, and together as one, we can make it happen!

Social Ambassador
The more you share on social media, the more opportunities you have to earn great prizes. Sign up to be an advocate today.
Join the team
Jack's Journey
Put on your best gear, decorate your sidewalk/driveway, and step outside as Jack and a few special friends drive through your neighborhood.
Learn More
Yellow and Blue Block Party
Food trucks, Pride of the Dakotas, SDSU dance and cheer teams, SDSU athletes, free SDSU ice cream, yard games, and tons of kid activities: it's going to be a night to remember!
Learn More
This is our chance to transform the future of SDSU; it's a bold goal, but there's nothing the Jackrabbit family can't do when we work together.