A Year of Bold Momentum
One year into the public phase of Bold & Blue, we're looking back on our progress, our potential, and the future of our premier university.
One year ago, SDSU publicly launched the most ambitious fundraising initiative in the history of South Dakota.
If you were one of the more than 3,000 Jackrabbits in attendance at Forever Blue: Twilight at the Campanile on that magical October 21, 2021 night, you likely remember an iconic celebration with spectacular projections on the Coughlin Campanile, a dazzling display of student talent with the concert choir and drumline, and the promise of a future brighter than anything we imagined.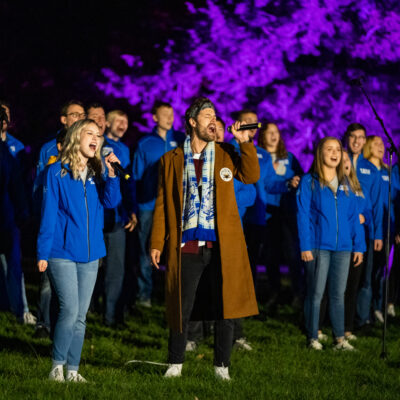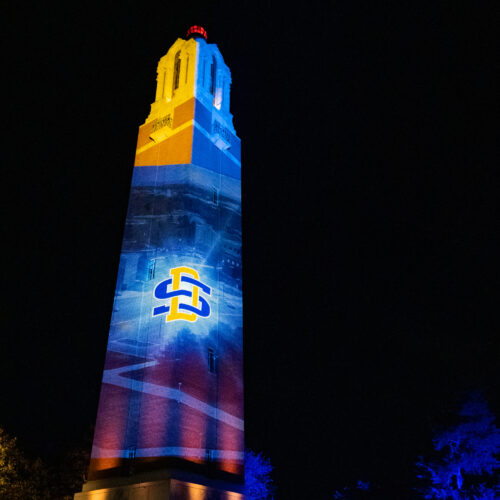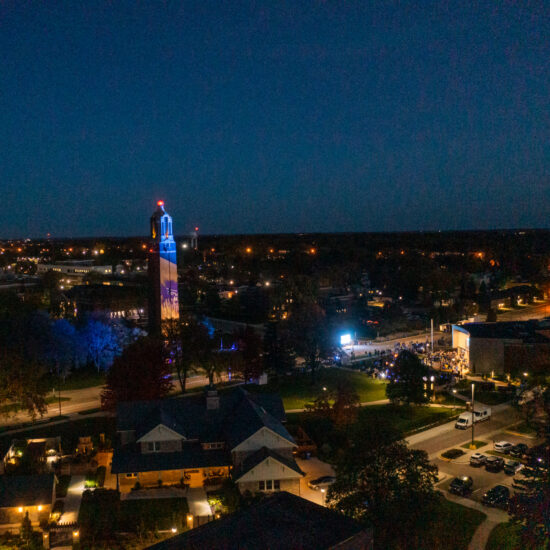 That night, we declared a goal to bring about the boldest chapter of this university's legacy: an era of relentlessly pursuing excellence, of becoming a powerhouse of progress, and of dreaming without limits for what comes next.

Though the public debut of the campaign seems like yesterday, Bold & Blue has wasted no time in transforming lives at SDSU. Since then, nearly $100 million has been raised. At the public launch, fundraising stood at $340 million. Today, that has grown to $437 million (check here for the most recent progress).
Bold & Blue has made significant strides in uplifting the four key pillars of SDSU that make our university top-tier. While it's impossible to recognize every milestone and accomplishment ushered in by the campaign, the Foundation can point to several landmark achievements that indicate the progress and impact of Bold & Blue is only just beginning.
---
OUR PEOPLE
On September 29, 2022, SDSU created a new way of recognizing our people who drive research and scholarly activity for Jackrabbits with the inaugural University Leadership Honors event. The collective investiture ceremony will take place annually moving forward, providing an opportunity to celebrate holders of endowed positions at State.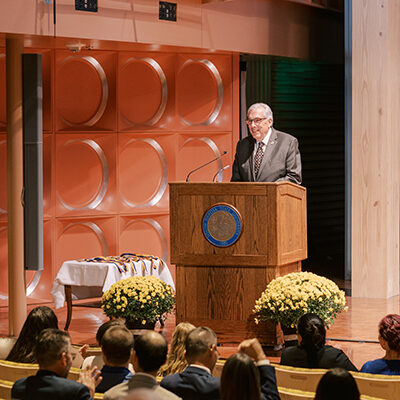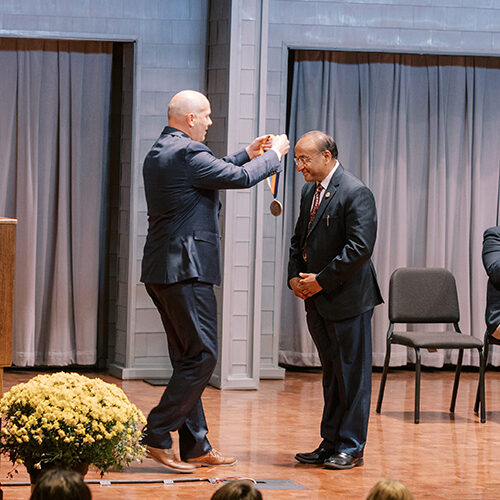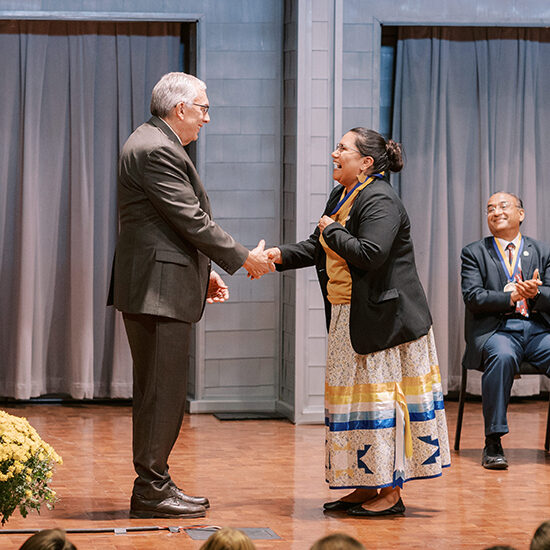 Defined as gifts invested to support a university's growth, endowments are perpetually funded financial resources that serve to advance knowledge and spur innovation. In addition to bolstering recruitment and heightening national prestige, these coveted faculty positions are instrumental tools in fundraising campaigns.
As donor philanthropy fuels new endowments, the best and brightest faculty from around the globe are drawn to the university, which in turn inspires others to invest in endowments.
At the start of Bold & Blue, SDSU held 13 endowed faculty positions, with a goal to ultimately reach 50. As of October 2022, the number of commitments is at 48.
---
OUR PLACES
Jackrabbits Athletics is a prime example of the Bold & Blue campaign's impact on our places.
Thanks to the lead gift of First Bank & Trust, Frost Arena will transform into First Bank & Trust Arena. Renovations are underway to take the fan and gameday atmosphere to the next level with premium seating areas, state-of-the-art video board and sound systems, increased concourse space, and updated locker rooms and offices. Completion is expected in the fall of 2024.
The Frank J. Kurtenbach Family Wrestling Center is due to open in December of 2022. The 16,000-square-foot facility will include increased practice space, locker rooms, a student-athlete lounge, and a nutrition center.

---
OUR TRADITIONS
While forming our traditions takes time, the Bold & Blue campaign leadership recognized the Jackrabbit experience is shaped by those traditions.
One of those is the Pride of the Dakotas Marching Band. For more than a century, the group has built a reputation for marching their way to musical milestones, including a presidential inaugural parade and the Tournament of Roses Parade. The Pride is set to complete the "Triple Crown" of grand American parades that few musical groups achieve by performing in the 2022 Macy's Thanksgiving Day Parade.
Donors are working to underwrite all but $500 of the trip for each of the nearly 350 Jackrabbits representing SDSU.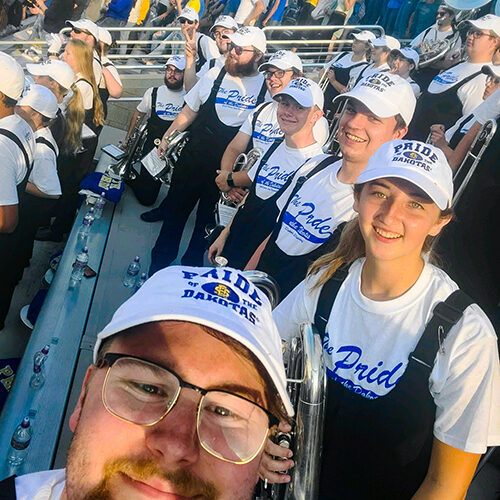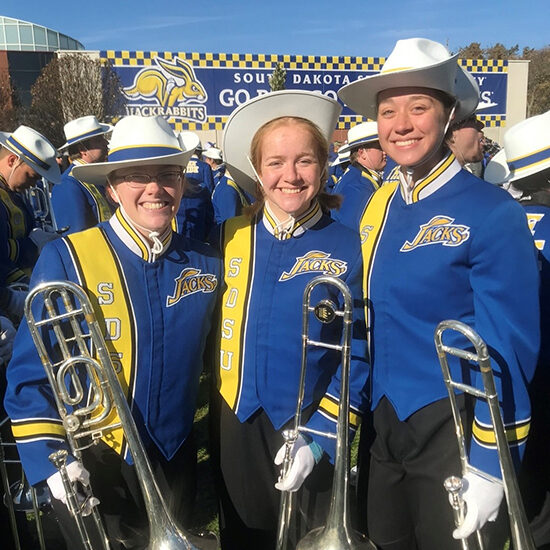 ---
OUR INNOVATIONS
When it comes to our innovations, SDSU is always exploring new, transformational technology that can empower our Jackrabbits to solve global challenges.
The applications of State's latest innovations are virtually limitless, with the university being named one of seven metaversities by Victory XR and designated to pilot a virtual reality program that will create a digital replica of the SDSU campus.
Through the virtual reality initiative, students who are both on campus or at a remote location can tour the university, take in the "twin" versions of the Coughlin Campanile and facilities across campus, and even partake in classes. Through the use of over 50 Meta Quest 2 headsets, students and faculty alike are testing the potential of virtual reality in classroom curriculum.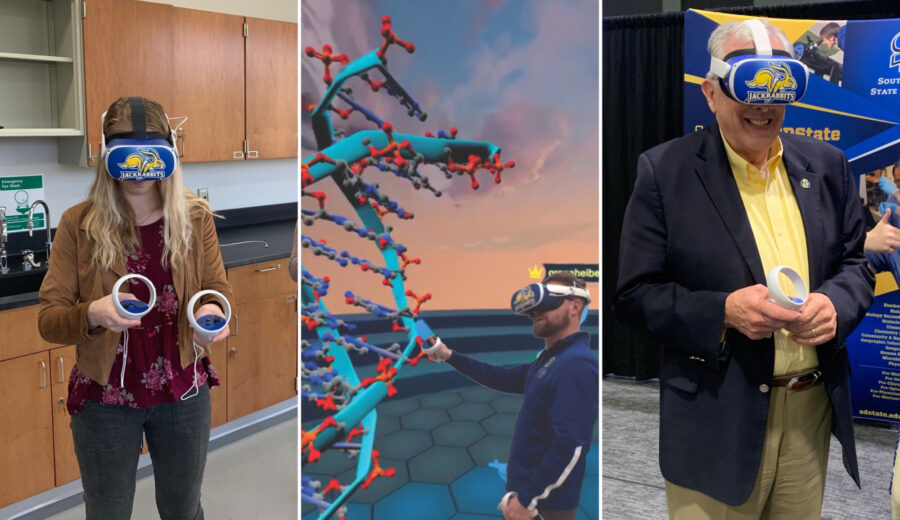 ---
After 365 days of momentous progress, the SDSU Foundation would like to thank the yellow and blue community for its unfailing loyalty, inspiring philanthropy, and determination to imagine more for State.
Though we must still continue to climb toward our goal of $500 million, we are grateful for Jackrabbit Nation remaining with us every step of the way. When the people behind SDSU come together, there's no vision too bold, no goal out of reach, and no future we can't build.
Be Bold. Give Today.
Give Now