Donors Motivated As Bold & Blue Nears Half-Billion-Dollar Goal
Bold & Blue is about investing in our people, our places, our traditions, and our innovations to elevate every corner of the university.
"We're going to be bold again, and we're going to do it with our true, blue hearts. We're going to raise $500 million for this university."
Those 26 words on Oct. 21, 2021, by campaign co-chair Dana Dykhouse '79 officially propelled SDSU into the largest comprehensive campaign in South Dakota history.
Fast forward, Bold & Blue is on the brink of reaching that ambitious half-billion-dollar goal. University and Foundation leadership now point to April 25, 2024, as the campaign's conclusion.

Gifts made since Jan. 1, 2017, have counted toward the campaign. Nearly 28,000 different donors have made gifts or pledges to the four major focuses of Bold & Blue.
Our people
Perhaps the most dramatic progress has been support for endowed leadership positions.
In 2017, there were commitments in place for 13 endowed positions. As of July 2023, that number has swelled to 49—ranging from $1 million professorships and scholars to a $5 million endowed dean's position for the Jerome J. Lohr College of Engineering by the college's namesake, Jerry Lohr '58.
One of the latest commitments is an endowed faculty scholar for rural health, established by Dr. Julie Stevens '71 and her late husband, Dale Evenson, of Tyndall, S.D.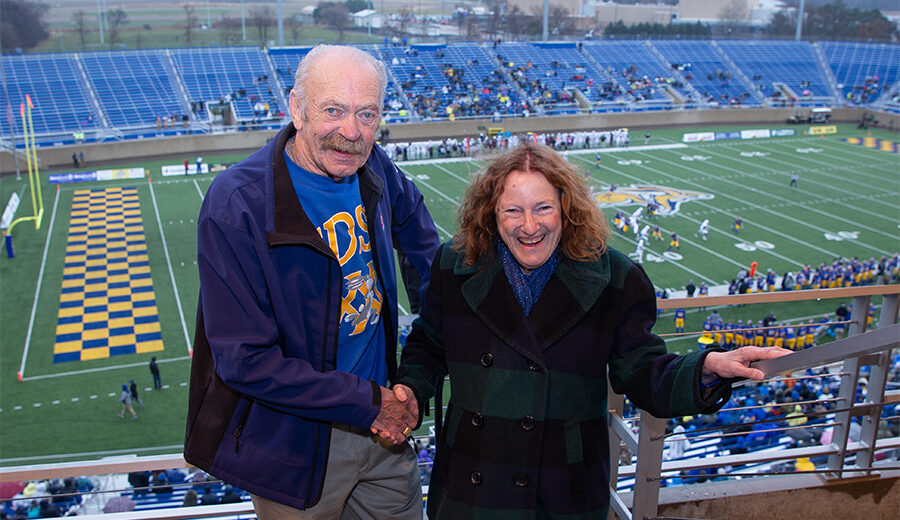 "Access to health care in rural areas is a major challenge in states like South Dakota," Stevens said. "I'm excited that this newly endowed position will focus on rural medical care and ensure that our students in the Master's of Public Health program will be well-versed in the issues."
The first holder of the position, Jim Amell, was drawn to SDSU from Purdue University. He starts in July. Stevens said she's particularly excited by Amell's extensive work with Native American communities.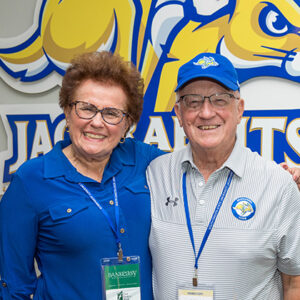 The intentional thought to preserve Frost Arena's history while adding modernized amenities to the nearly 50-year-old facility captivated donors like Mylo and Lillian Hellickson of Brookings. The couple worked at SDSU for a combined 80 years, an "unending labor of love," as they describe it.
"Our enjoyment of Jackrabbit Athletics, especially men's basketball, contributed most positively to our experience," the couple said. "Over the years, we got to know, admire and respect many of the players. Those friendships continue to this day."
The Hellicksons sponsored the men's basketball players' lounge, ensuring that their investment and longtime passion will be known to generations of future Jackrabbits players.
Our Traditions
Our 142-year-old university is steeped in tradition.
Yet, some signature events and groups (Hobo Day and The Pride of the Dakotas Marching Band) are accustomed to operating on tight budgets.
Opportunities for trips like the Macy's Thanksgiving Day Parade depended on a fundraising push to guarantee no member of The Pride couldn't make the trip due to financial limitations.
Donors stepped forward to raise nearly $700,000, meaning that Pride members had to cover only $500 of their cost.


Nearly $190,000 has been raised to support Hobo Day. Nearly $2.25 million has been committed for The Pride.
Bold & Blue is working to create multi-million-dollar endowments to provide a stable revenue stream for each.
Our Innovations
The POET Bioproducts Center is the newest 45,000-square-foot addition to the burgeoning SDSU Research Park—the result of a public-private partnership with more than $10 million in gifts leveraged by the state of South Dakota's funding in excess of $20 million.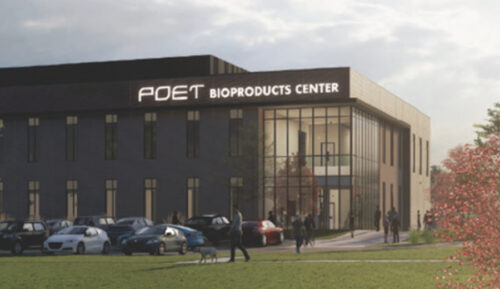 "We are convinced that this specialized laboratory will provide our region with enormous capacities to drive economic growth through applied biotechnologies," SDSU President Barry Dunn said.
POET, headquartered in Sioux Falls, is the world's largest biofuel producer and a global leader in sustainable products. POET provided the $5 million gift, which was coupled with $2 million from South Dakota Corn and $2.5 million from the South Dakota Soybean Research and Promotion Council.
POET founder and CEO Jeff Broin envisions the center as a "catalyst … that will lead our nation's conversion from a fossil-based economy to an ag-based economy."
University officials expect the facility will generate millions of dollars in research expenditures annually.
"The response to Bold & Blue heading into the final stretch has been remarkable," said Kim Tyler, a 1982 alumna who serves as campaign co-chair with Dykhouse and Lohr. "It is already the largest campaign in South Dakota history, yet we continue to see evidence by alumni and friends to do even more. Bold & Blue's impact on this university will be felt for generations."
Be Bold. Give Today.
Give Now