Feeding the Future: Jack's Cupboard Serves Up Hope
Jack's Cupboard is on a mission to ensure no student goes hungry as they pursue their bold futures at SDSU.
Imagine having to choose between paying your rent or buying your groceries. Imagine making the choice between purchasing your textbooks or feeding your family. Imagine leaving school not because you didn't want to pursue a higher education, but because you simply couldn't afford it, no matter how you tried to make ends meet.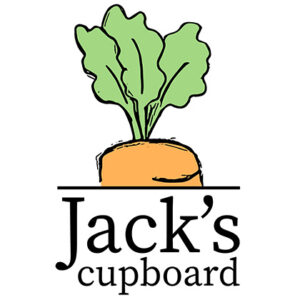 College can often be a balancing act of difficult choices, but food insecurity shouldn't be one of them. That's where Jack's Cupboard comes in.
Jack's Cupboard is the university's free, on-campus food pantry with a mission to ease financial burdens for hungry Jackrabbits. Located in Ben Reifel Hall, Jack's Cupboard ensures that students can put their wellbeing first to pursue what they're passionate about at SDSU. Established in 2018, Chris Kaberline, Associate Director of Housing and Residential Life, and Kas Williams, former Chief Diversity Officer at State, noticed a need for nutrition and wellness support among their students, and the idea for a vital resource was born.
In the early days of Jack's Cupboard, Chris recalls an evening where she received a call after hours; a student had run out of food and had nowhere else to turn. Upon meeting the student, Chris remembers opening the pantry and encountering a Jackrabbit who was the picture of difficult circumstances: the student was physically folded upon themselves, with head bowed and shoulders hunched. Chris welcomed the student, invited them to take whichever items from the cupboard they liked, and encouraged them to return at any time. She looks back on that night as one of her favorite memories during her time working with Jack's Cupboard, not because of the essential groceries that were shared, but because of the opportunity to give hope when someone needed it most. "When that student left that night, their head was held high with a smile on their face," she recounts. "Their shoulders were straight, and they seemed visibly relieved. A student found a place they could count on, and they knew they had support from this university."
Today, Chris and her team of student staffers and volunteers are on a mission to provide dignity, support, and connection for any student who seeks out Jack's Cupboard.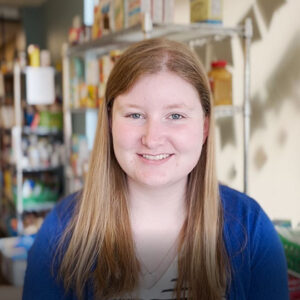 _
We sat down with graduate student and volunteer coordinator, Keri Pappas, to learn more about the pantry: what it looks like today, where it's headed tomorrow, and how you can help feed the future of SDSU.
How did you first become involved with Jack's Cupboard?
I got started with Jack's Cupboard in spring of 2019. The Honors College had offered to adopt the cupboard for a week and needed some student volunteers. I signed up for a shift, and I absolutely fell in love. After that, I somehow fell into this role of getting to help coordinate donations, and now I'm coordinating volunteers. It's been a wild ride that started with taking a chance and signing up for a shift.
What's your favorite thing about working with Jack's Cupboard?
We are a no-questions-asked food pantry. Students come in, they show us a valid SDSU student ID, and they can take whatever they need. I never have to limit what they can take; I don't have to turn someone away because we ran out of goods or because they didn't meet a certain income restriction. I don't even have to limit them on how many times they can come into the pantry each week. When you're volunteering at Jack's Cupboard, you essentially just get to give out all this food with no limitations. Because of the generosity of so many amazing people, I never have to tell a student no, and that is by far the coolest thing about Jack's Cupboard.
In what ways can the public help contribute to Jack's Cupboard?
If you'd like to contribute, you can make a gift online at www.rabbitraisers.org, or simply drop off items for donation at Jack's Cupboard during hours of operation, at the Housing & Residential Life Office weekdays from 8 am – 5 pm or at the University Police Station (24/7). Plus, there are so many ways to get involved outside of donating. Even spreading the word on social media is helpful. We're also looking to share recipe ideas where students can learn about a new dish and be supplied with all the necessary ingredients to make it. Our goal is for those ingredients to cost $5 or less total, and I'd just love to cover our walls with recipes; we discover new foods together every day in the pantry.
What has your experience been like volunteering at Jack's Cupboard?
Making connections with the students here is such a privilege of mine. We are more than just a place where you get canned green beans; we're ecstatic to see things like snacks and baking supplies come in and be able to fully stock our shelves. It's so fun to see moms who come in and are so excited to see items like fruit snacks or Pop Tarts, which are treats their children might not usually get to enjoy. We're here for the students, but we know that students have lives that include partners and children and lots of things going on, so it's really cool to get to support them holistically.
What does a gift of just $5 or $10 mean to a student visiting the cupboard?
Any donation makes a difference – any dollar amount. If you can donate $1, that's a pack of pudding cups to bring joy to some college student's world as they study for an exam. If you can donate $2, that's a box of oatmeal, which could be breakfast for a week for a student that might not have eaten otherwise. If you donate $3, that's a bottle of cooking oil that is a rare commodity in Jack's Cupboard these days, because you can use it for just about anything for weeks. If you can donate $4 or $5, that's a pound of beef or ground turkey for students who otherwise might not be able to afford a protein source. For $10.00, we can provide dried milk, instant coffee, or laundry detergent, which are all popular favorites that are hard to keep on the shelves. Any donation makes a considerable difference, and all of these donations in any quantity allow us to make this a humanizing experience and an accessible resource for Jackrabbits that will provide the nutrition our students need as they pursue their dreams at SDSU.
How does Jack's Cupboard impact students' experiences at SDSU?
The reason that I chose to come to South Dakota State University to pursue my education was because SDSU felt like home for me. But unfortunately, for many of our students, this place cannot feel like home because they don't know where their next meal is coming from. They can't afford to clean their clothes. They can't afford to purchase personal hygiene products that make them feel dignified and allows them to focus on their studies. They can't afford to cook culturally relevant dishes that they're familiar with. At Jack's Cupboard, we ask that you help us help other Jackrabbits feel at home here too.
_
Jack's Cupboard has grown rapidly since its creation, serving over 1,660 students since 2018 and seeing the number of Jackrabbits visiting the cupboard nearly double from 2020 to 2021. The pantry now offers personal hygiene products to provide even more holistic support, and even recently teamed up with the Salvation Army to collect coats for students in need. But Chris and Keri and their team are always hungry for what comes next.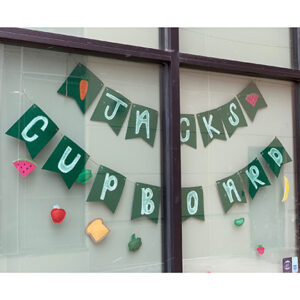 The staff have big goals for the future when it comes to easing financial struggles for SDSU students. They aim to add additional student positions and would like to engage with marketing students to help elevate their fliers and branding, all with the goal of spreading the word about the mission and campus-wide accessibility of Jack's Cupboard. Upcoming initiatives will likely involve expanding the pantry's offerings to include frozen and refrigerated items. As local grocers like HyVee and Walmart transition to online delivery services, the team hopes to someday do the same, creating a future for Jack's Cupboard in which students don't have to worry about carrying larger quantities of items back to their residence.

No matter how you choose to support Jack's Cupboard and no matter the size of a gift, your generosity can empower students to prioritize their studies and focus on pursuing their education. With your help, we can foster a future where no Jackrabbit goes hungry, where students don't face make-or-break financial decisions, and where SDSU feels like home for all.
Though all types of food donations are welcome and appreciated at Jack's Cupboard, Chris and her team identified the most popular items to fly off the shelves:
Pasta and pasta sauces
Canned meats (chicken, tuna, beef)
Canned fruit
Rice of all kinds
Ramen (of all flavors)
Dry beans
Soups
Shelf-stable milk
Variety of canned tomatoes
Mac-and-Cheese
Any personal hygiene items, such as toilet paper, Kleenex, soap, shampoo, Clorox wipes, toothpaste, etc.
Laundry detergent, dish soap, sponges
Be Bold. Give Today.
Give Now