Grant Honors Native American Culture, Collaboration, and Community
The John T. Vucurevich Foundation's grant will bolster Native American programming at SDSU.
Thanks to a significant boost from an incoming grant, South Dakota State University's Native American Nursing Education Center (NANEC) will heighten support for student mentoring, cultural programming, and overall wellbeing.
While the John T. Vucurevich Foundation has provided consistent scholarship support for Jackrabbit B.S.N. nursing students in the past, the recent grant for the NANEC is a first-time award.
Located on the Rapid City campus, the NANEC provides a place where Native American students can pursue their dream of attaining careers as nursing professionals.
The space offers a nurturing and collaborative environment with an emphasis on learning through mentorship; mentors through the center serve as social and cultural advocates, fostering one-on-one relationships that build encouragement and guidance with monthly meetings as students work toward their B.S.N. degrees.
The NANEC offers resources inside and outside the classroom to bolster success for Native American nursing students while offering time-honored Indigenous programming, such as Lakota ceremonies and events.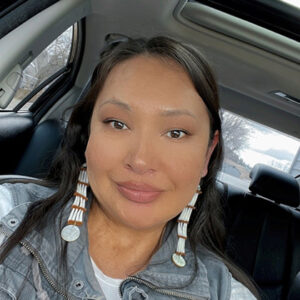 "The NANEC has been a massive part of my success because of the genuine support and family-oriented space. They gave me the support I did not have in my personal life at the time," explains recent graduate Anna Jealous of Him. "This group of women cared enough about me to keep me encouraged and to make sure I had what I needed to succeed."
Grant funding made experiences like Jealous of Him's possible, and it fuels the NANEC's cultural programming, including three types of key events. The Cante Wakan (or Sacred Heart) Ceremony takes place at the beginning of the nursing student's journey as they are presented with their first stethoscope and skills kit. A spiritual leader is typically in attendance to provide a blessing and encouragement prayer as students embark on their careers as healers.
Throughout the academic year, the NANEC holds Wohanpi na Wounspe events that spotlight Lakota speakers to share their expertise related to Native American culture. The monthly lectures provide students, faculty, and community members with opportunities to gain insight into Lakota traditions, heightening Native nursing students' sense of belonging at SDSU while their heritage is recognized as a core component of their identity as future nurses.
Finally, the Honoring Ceremony celebrates students' completion of courses following graduation. A local culture bearer and drum group conduct this landmark Lakota ceremony while a Star quilt is presented to each graduate, signifying their transition from student to nurse.
"This ceremony is more than honor," said Jealous of Him. "It is a reminder of who we are and where we came from, a moment to see the resilience we each have and the perseverance it took when we felt like giving up so many times…but more powerful than that feeling of self-doubt was the notion that we are the answered prayers of our ancestors."
Through reinforcement of scholarship support and a groundbreaking investment in the NANEC, the John T. Vucurevich Foundation has granted opportunity to Native American nursing students and built a bright future for tomorrow's healthcare heroes.
Ready To Make An Impact?
Give Now