Morgan Honored with Lohr Award for Volunteer Leadership
The recognition is designed to honor an individual who demonstrates exemplary volunteer leadership.
Jim Morgan was honored with the Jerome J. Lohr Award for Volunteer Leadership in recognition of his involvement and support of the South Dakota State University Foundation.
The award was announced October 28, 2022, in conjunction with the Foundation's fall Council of Trustees meeting. The announcement was made by Jerry Lohr, one of SDSU's largest benefactors and a member of the Foundation board since 1988.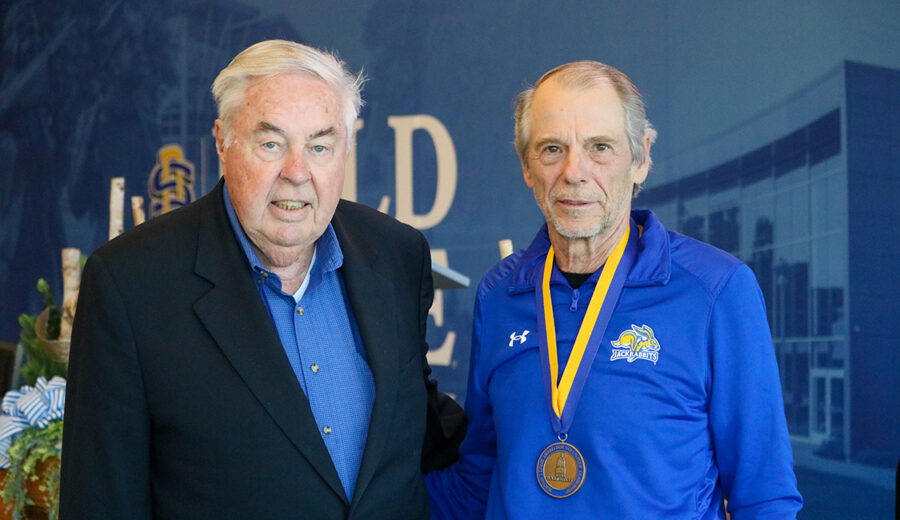 A 1969 electrical engineering graduate of SDSU, Morgan was approached by Daktronics, Inc., while pursuing his master's degree at State. He joined the company while it was still in its infancy and built a decades-long career with what would become the world's leader in audio-visual communications systems. Morgan was responsible for the design of the first Daktronics scoreboard, the Matside scoreboard, in 1971. He served as president of the company and CEO from 2001-2013.
Morgan's involvement with SDSU and dedication to the university has never wavered since his time as a student. He was recognized as an SDSU Distinguished Engineer in 2004 before joining the SDSU Foundation's Council of Trustees in 2007. He continues to serve SDSU in countless ways and strives to uplift many diverse areas of campus through financial support and unfailing Jackrabbit pride.
The SDSU Foundation created the Lohr Award in 1999 as a tribute to Jerry Lohr. The recognition is designed to honor an individual "who demonstrates exemplary volunteer leadership on behalf of the Foundation and outstanding philanthropic support of SDSU."
The award speaks to not only financial contributions, but to significant contributions of time and expertise to advance the mission and priorities of the university.
Lohr personally selects the winner of the award each year, in conjunction with Foundation staff and leadership. He acknowledged Morgan's leadership with campus projects, ranging from Daktronics Engineering Hall and the Van D. and Barbara B. Fishback Honors College. President Barry Dunn praised Morgan's impact as a member of the South Dakota Board of Regents from 2015 to 2021.
Morgan is the 18th recipient of the prestigious award. Other past recipients include:
Anson Yeager, former editor of the Argus Leader and lead donor of Yeager Hall who passed away in 2005;
Roland Jensen, a former energy industry leader who served on the board until his death in 2006;
Dr. Charles "Scotty" Roberts, a physician and local philanthropist until his death in 2004;
Bill Larson, a Colorado rancher who earned three degrees at SDSU in the 1960s;
Aelred J. Kurtenbach of Brookings, a co-founder of Daktronics;
Duane Sander of Brookings, a co-founder of Daktronics;
Errol EerNisse of Salt Lake City, an electrical engineering graduate and founder of multiple research-based companies;
Barbara B. Fishback of Brookings, a home economics graduate who is active in local, regional, and statewide organizations;
Dana Dykhouse, an agricultural business graduate and CEO of First PREMIER Bank in Sioux Falls;
Duane Harms, an agricultural business graduate and owner and president of Harms Oil Co. in Brookings;
Paul Moriarty, a homebuilder, developer, and apartment owner in Brookings;
Bill Folkerts, real estate investor and owner in Watertown;
Keith Bartels, former Vice President of The Martin Group Inc. in Mitchell;
Cathy Voelzke, former nutrition marketing program manager for Midwest Dairy Association in Brookings;
John "Jack" Marshman, former president of Sioux Falls Construction who passed away in 2018;
Jim Woster, an animal science graduate, South Dakota Hall of Fame Inductee, and volunteer at countless organizations across the state, including the SDSU Foundation;
David Anderson, a senior research scientist at Elanco Animal Health and creator of SDSU's Weary Wil and Dirty Lil statues outside the student union.
Be Bold. Give Today.
Give Now