"My Heart Leads Me to Stay Involved"
Marc Mooney's journey to leading the Council of Trustees is built on a lifelong passion for SDSU.
After more than 30 years of being involved with SDSU, Marc Mooney still has a Jackrabbit bucket list he's forever working to complete.
He's already crossed off several items: earning a degree in ag business; meeting his wife, Julie; introducing their three children to the yellow and blue family; serving on the SDSU Foundation's Board of Governors and Council of Trustees; and becoming the 2023 Chair of the Council of Trustees, just to name a few highlights.



A 1992 graduate, Marc is the Chief Operating Officer for First Dakota National Bank. Julie is a 1994 journalism alum.
Yet one could easily make the argument that the Mooneys' commitment to SDSU is a full-time job in and of itself.
The Yankton couple are longtime season football ticket holders, traveling well over 6,000 miles in the 2022 season to join the Jackrabbits on their journey to Frisco.
All three Mooney children followed in the family footsteps that led to the college on the hill.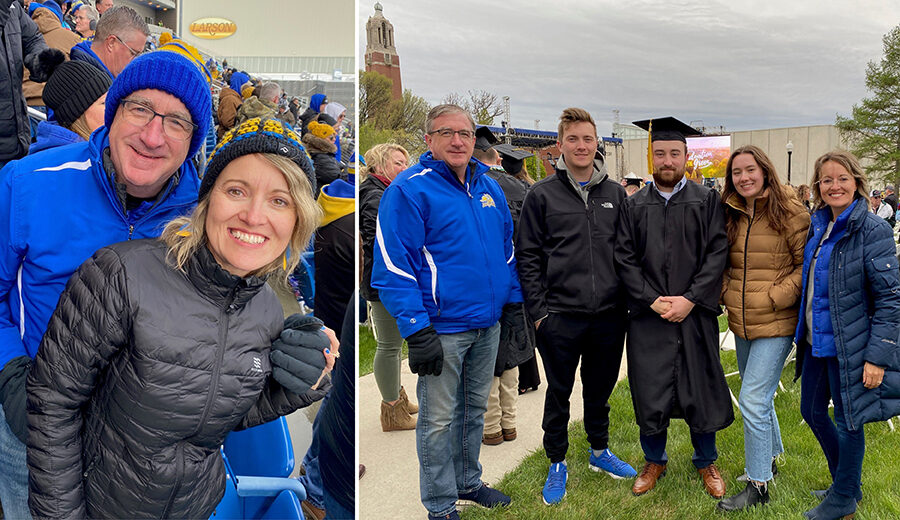 The Mooney family lives and breathes all things SDSU – and when it comes to milestones in university history, Marc doesn't want to miss a moment.
From championing the Bold & Blue campaign, to taking on countless volunteer leadership roles, to cheering on Jackrabbit Athletics as often as his schedule allows, Marc is a tireless advocate for State.
As the university continues to build momentum toward our historic fundraising goal and stacks up accomplishments upon accolades, we caught up with Marc to learn a bit more about the man leading the Council of Trustees: a group playing a significant role in what comes next for SDSU.
Marc is much more than just a leader, and he's far from being all business. A self-professed "Excel nerd" and an avid engineering and woodworking tinkerer, he's always on the hunt for new experiences on campus – and what better way to chase new horizons than to play an integral part in governing big-picture decisions at State?

Since SDSU is one of Marc's favorite topics, it was only fitting to get his perspective on his service to the university, how SDSU has impacted his life, and what irreplaceable qualities of the collegiate experience here keep loyal Jackrabbits like him always coming back for more.
---
Are you the first generation in your family to attend the university?
Yes, I grew up in northwest Iowa, so I was most influenced by the Iowa Hawkeyes since my grandparents and uncles had season tickets for football. I did not have a traditional path as a student here, as I transferred from an Iowa community college after my sophomore year. I'm happy to say that my entire Iowa family now knows about SDSU because of my involvement with and enthusiasm for the Jackrabbits!
In what ways do you think your life would look different if you hadn't attended SDSU?
One of the greatest blessings of our life has been SDSU. First, because Julie and I met and fell in love with each other here, and by raising our children as Jackrabbits, we've had some of the best family memories here. Secondly, because of my/our involvement with the Alumni and Foundation boards, we have made some of our most valued friendships. Volunteering our time has not been a job or a hardship; we've been so lucky to work with GREAT people equally as passionate about this place.



How do you believe the university will be changed because of the Bold & Blue campaign?
I was impressed with the ambitious goal to raise $500 million, and I knew we had the people and processes in place to meet that goal. Bold & Blue is about the people and the programs; the impact it will make on the student body, future students, and our state is incredible. This campaign's outcome will be monumental for years to come!
What's your favorite thing about being a Jackrabbit?
There's nothing better than greeting someone, saying, "Go Jacks!" and getting a reply of "Go Jacks!" back. Jackrabbit Nation is growing and evolving while holding on to our great traditions. I love the respectable way our athletes compete, the way that Athletics values the whole person, their academics, while requiring excellence when competing. I get pretty emotional thinking back on all the amazing moments the Jackrabbit teams have given us these last years!
What makes you want to stay involved and connected at State? 

South Dakota State University has given me a quality academic degree, valuable life experiences, lifelong friendships, and leadership opportunities. I'm passionate about this place, so my heart leads me to stay involved. The human connections that Julie and I have here are some of our most valued, and the memories on campus are some of our best. Many photos in our home showcase fun times we and the kids have had at Hobo Day Parades, at the Dana J. Dykhouse Stadium, and in Brookings itself! We're blessed and thankful to be part of the Jackrabbit family.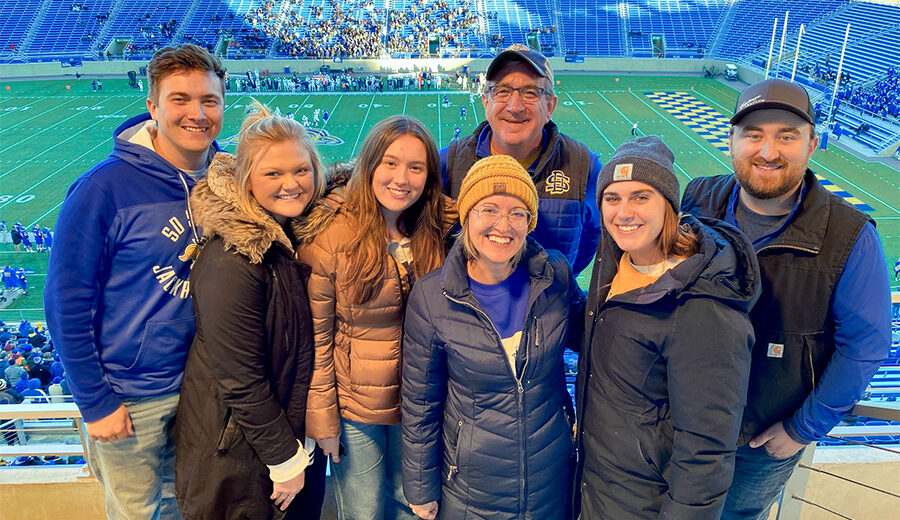 What aspect of being the Chair of the Council of Trustees do you enjoy the most?

I really enjoy working with the people, staff, and other Trustees – their professional knowledge inspires me. It's an honor to provide leadership and support to the university.
What makes you proud to be a Jackrabbit?
Every time I see another Jackrabbit representing South Dakota State in an honorable way, I feel proud. Our academics are first-rate. Our athletic teams compete at such a high level. We have quality research going on. Our campus is beautiful. Every day I say, "It's a great day to be a Jackrabbit!" 

What's a surprising fact our readers might not know about you?
I'm a farm head. I restored a tractor that was purchased new on our farm in the early '60s and have a couple others in storage that are like the ones my grandpa and dad had on the farm years ago. I also enjoy building things that make Julie shake her head sometimes.
Is there anything you'd like to do left on your SDSU bucket list?
Winning the national championship in Frisco was my ultimate dream come true. So, that's a huge SDSU bucket list item that thousands of us got to experience! On that same vain, Julie and I have a goal to go to a football game at every Missouri Valley Conference opponent's stadium. I'd also like to experience Little "I" and take a meat judging class. Someday, I'd like to get a mechanical engineering degree.
---
Marc Mooney, along with his own family of Jackrabbits, is living proof that there are always new opportunities to discover and new memories to make at SDSU.
From cheering on premier athletic teams and pursuing world-class education, from partaking in time-honored traditions and forging new innovations, Marc's ongoing journey at State is a testament to the experiences that await anyone interested in getting involved.
Much like SDSU's influence on a Jackrabbit is never-ending, Marc's relationship with SDSU is evidence that Jackrabbits, too, can always make an impact at State. Built on nostalgia from the past, joy in the present, and belief in a bold future, this university fosters timeless relationships and unbreakable bonds.
As Marc predicts, "After our time is over, we'll have these friends, and we'll grow old remembering the good things we accomplished together."
Be Bold. Give Today.
Give Now