Someone I Only Dreamt of Being
Maddie Fitch is confident the lessons she learns at SDSU today will help save lives tomorrow.
Maddie Fitch is all about being the change she wants to see in the world.
A nursing major planning to graduate in May of 2023, her list of extracurriculars runs longer than you could count on both hands. With interests spanning from the Student's Association to the Fishback Honors College and everything between, Maddie's days at South Dakota State University have been packed with experiences and opportunities to grow both personally and professionally.
Her many accolades include working with the Monument Health Rapid City Hospital and interning at Sanford USD Medical Center in Sioux Falls, where she's accepted a job post-graduation as a critical care RN.
She also strives to make a difference in the world in any way she can, ranging from participation in the Oasis College and Young Adult Ministry to membership on the SDSU Foundation's Council of Trustees to advocating with the Student Health and Counseling Center.
Maddie's life is far from being all work and no play; she was among the many Jackrabbits storming the field after the FCS football championship in Frisco, she's cultivated lifelong friendships through the Alpha Xi Delta sorority, and she's spent time exercising collegiate stress away through the swing dance club. (She's also on a personal mission to sample every flavor of SDSU ice cream before her time as an undergraduate is up.)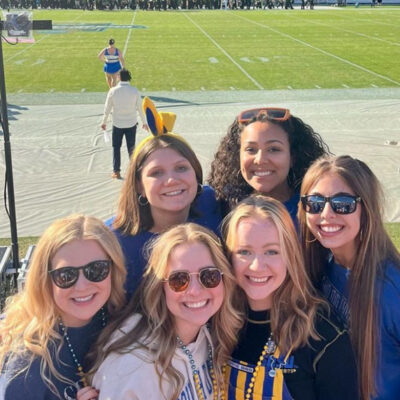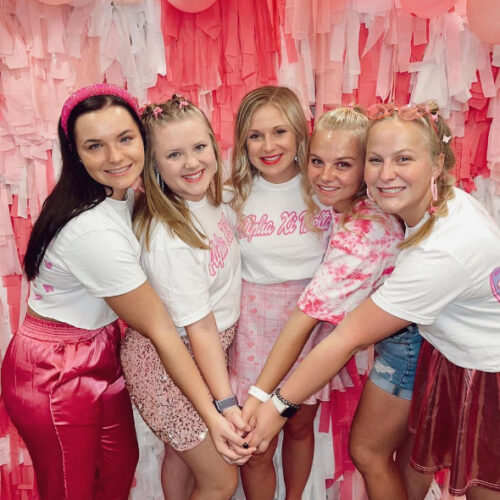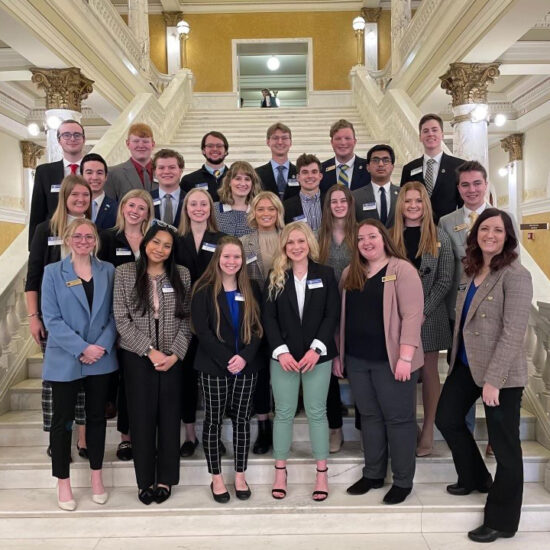 What perhaps is most surprising about Maddie's journey at SDSU is that it very nearly didn't happen.
As a high school student, she dreamed of pursuing a higher education at a school within the mountains, hoping to live in a place where she could enjoy her passions for hiking and fishing.
A significant scholarship award at SDSU changed everything; the day her parents learned of the scholarship, the possibility of their financial burden being lifted brought tears to their eyes. Maddie recalls that was the moment she sought to take her dreams to SDSU.
Learn how to start a scholarship at SDSU
When asked to summarize her years as a Jackrabbit, she answered with one simple word: joy.
We caught up with Maddie to hear all about what made her time at SDSU so joyful: the memories she's made, the lessons she's learned, and the experiences she'll carry with her as she prepares for a career in saving lives.
---
What opportunities have you had the chance to be a part of that may not have been possible without the connections you've made at SDSU?
I was privileged to serve as the president of my sorority, Alpha Xi Delta, as a sophomore, where I gained confidence as a leader and connected with student leadership and campus administration who saw things in me that I had yet to see in myself.
Serving the SDSU student body [through the Student's Association] has permitted me to voice concerns that might not otherwise be heard.
Advocating for improved mental health resources alongside counseling staff has given me the chance to seek genuine change to benefit those around me.
Coupling my experience as a senator who practices advocacy with my passion for nursing led me to find a research opportunity that will be presented to South Dakota legislators at the 2023 Student Research Poster Session.
Not only have these experiences improved my confidence and spirit of advocacy, but they have also cultivated lifelong relationships that will extend into my career and beyond.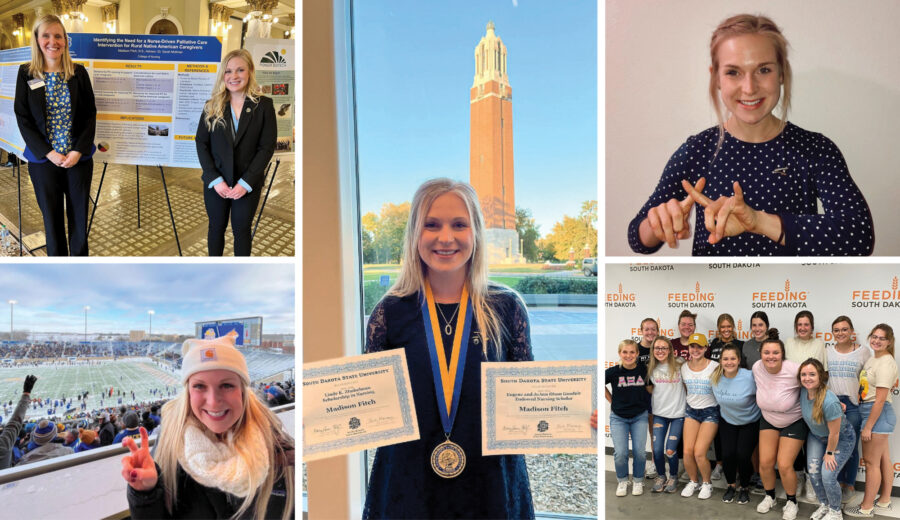 What is the greatest life lesson you've learned at SDSU so far?
Confidence comes from the belief that there is always something new to learn. Without a passion for being wrong, you will never feel fully satisfied with being right.
How has your time at SDSU impacted who you are today?
I would not be where I am today without this institution.
The constant support I have received from classmates, advisors, and friends across campus has guided me through some very challenging times where I was unsure as to whether or not I would even stay in school.
This university has reminded me that I am enough for the opportunities and resources I have been given.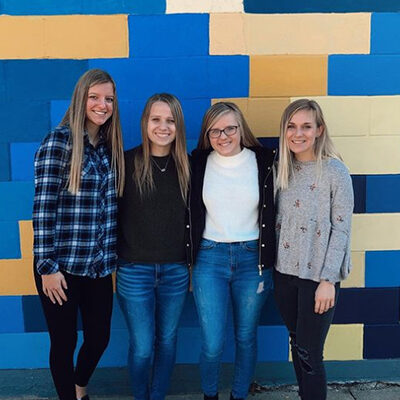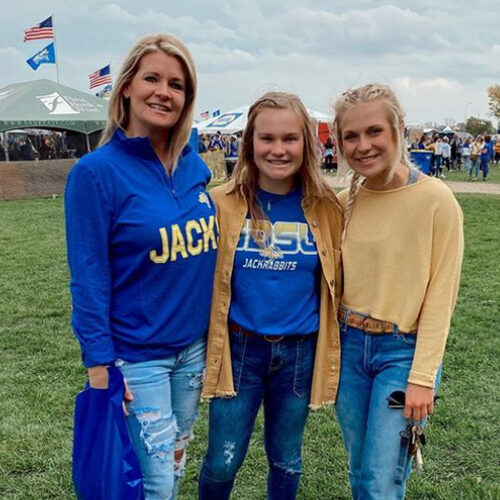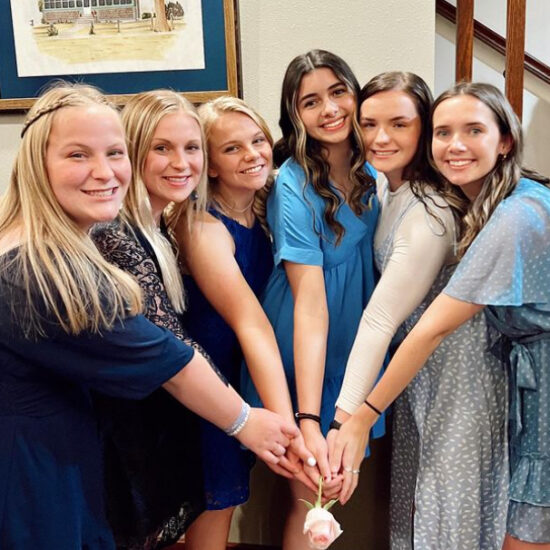 What do you love about SDSU?
Everything! I love the sense of pride that this university cultivates. The simple fact is this place, and its people, have a reputation of excellence that supersedes any one individual story.
The collective experience that is South Dakota State makes it a university that is hard not to love.
What inspired you to study nursing?
When I was a sophomore in high school, both my maternal and paternal grandmothers were diagnosed with stage four lung cancer within a week of each other.
They both chose different routes of treatment, but the nurses in both were outstanding. They were kind and considerate and advocated for my family immensely.
Both of my grandmothers passed my junior year of high school. My maternal grandfather became very ill during this time and passed later that spring.
My family had constant interaction with a profession that displayed compassion and intelligence, yet remained steadfast to treating the patient as an individual who had contributed to society and deserved respect.
I wanted this to be my career.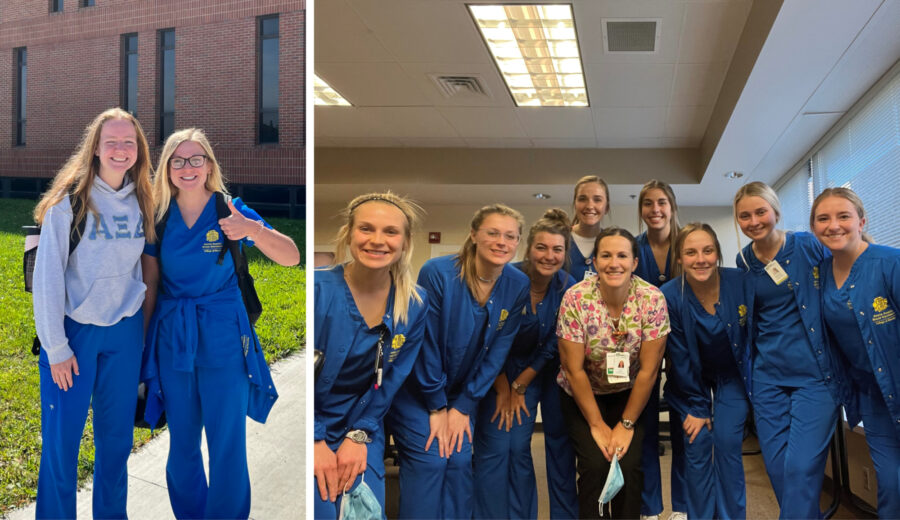 What are some of the key takeaways you learned in your experience working at Monument Health Hospital and interning at Sanford USD Medical Center?
Ask questions, no matter how obscure they may be, for there is always an opportunity to learn.
Say yes to new experiences.
Be kind and respectful to yourself and your patients.
Practice nursing with an awareness that cultures, values, and beliefs may differ, but are all equally important to positive health outcomes for patients and their families.
Respect the opinions of others; you might not agree but you could learn something new.
What excites you most about graduating and becoming a nurse?
All of it. I have loved my time at SDSU, but I am ecstatic to get on the unit and learn all that I can. I cannot wait to feel more confident in my knowledge and skills to help save lives and make an impact larger than myself.
---
Looking back on who she was when she first stepped foot on campus to who she will be the day she leaves it, Maddie reflects that her story is one of not just joy, but growth.
While in high school, she admits to not exactly seeing herself as a star student or worthy of academic prowess.
In her time as a Jackrabbit, she's found boundless opportunity to shine and to effect the changes she hopes to see in the world.
Through a career built on competence and compassion, Maddie knows the lessons she learned today will help save lives tomorrow.
"SDSU saved me from my lack of confidence and provided me a space to thrive," she said. "Through the kindness, respect, and continuous stream of support that this school has shown me, I have grown into someone I only dreamt of being four years ago."
Help our students dream big
Learn how through scholarships