Stiegelmeiers Make a Difference at SDSU
Coach John Stiegelemeier and his wife, Laurie, lead the Jackrabbits with faith, fortitude, and above all, love.
Published January 7, 2023, before the Jackrabbits defeated the NDSU Bison, 45-21, in the FCS National Championship on January 8
If you're a fan of Jackrabbit Athletics, there's no doubt you're familiar with Coach John Stiegelmeier.
Affectionately known as "Coach Stig" around campus and beyond, he's built a larger-than-life legacy with SDSU Football, having been a fixture at the university for 35 years. His tenure as head coach has led the Jacks to the matchup of the century against North Dakota State University at the FCS National Championship game in Frisco, Texas. Ahead of such a tremendous milestone, we seized our chance to sit down with Coach Stig in his office, which at first glance resembles a museum of a long and storied career.
Souvenirs and mementos from his time at SDSU, both personally and professionally, adorn every corner of the room: a slice of wood from an evergreen tree that once grew where the Dykhouse Student Athlete Center now stands; a bright orange hat from College Game Day; a collection of rings from past accolades and championships; a customized bobblehead designed by the mother of one of his players, complete with glasses, moustache, and a tiny bottle of Mountain Dew; a gallery of drawings from his grandchildren, often depicting the Jacks pulling off sensational wins against the Coyotes; and the iconic phrase, "Holy Nutmeg," scrawled across a sign on the wall, a term coined by Coach Stig to express amazement or frustration in any situation.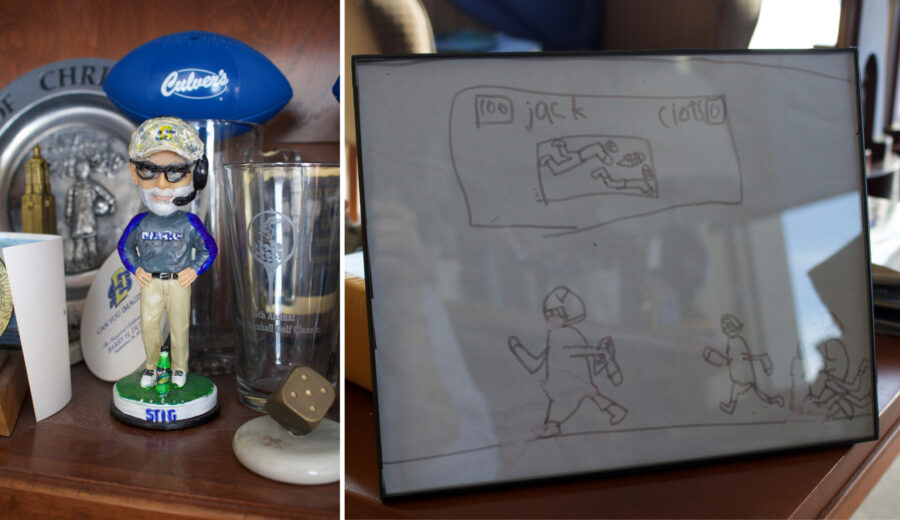 "He's kind of sentimental," remarks Laurie Stiegelmeier, as she peers around the room and reflects on the memorabilia with a smile.
It's an overwhelming testament to Coach Stig's time and dedication to SDSU, having served as head coach for 26 years. While it's an unparalleled legacy, it's been successful thanks to the unshakable pillars of his personal values: football, faith, and family – and when it comes to family, we'd be remiss not to recognize the key role Laurie has played in supporting Coach Stig in his dreams at SDSU. Married for 43 years, the couple have embraced Jackrabbit Nation with open arms, forging lifelong memories, community connections, and a winning team that no member of the yellow and blue community will ever forget.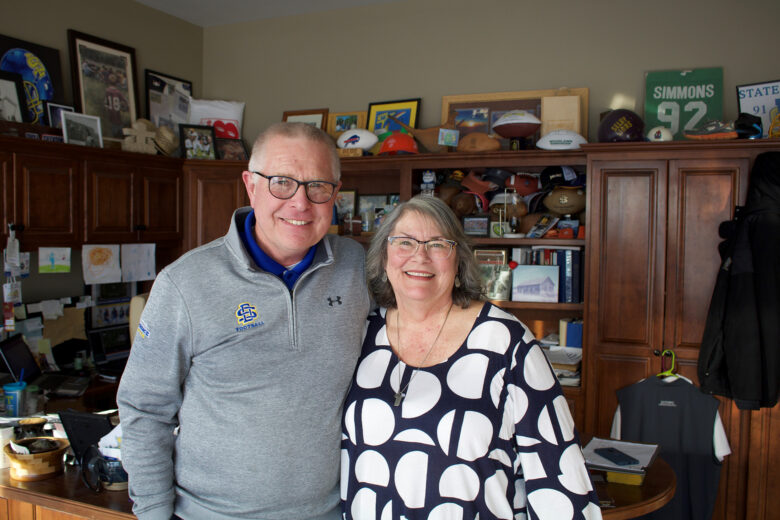 We had the chance to get both Stiegelmeiers' perspectives on their many years at SDSU – and the journey has been nothing short of remarkable.
---
We've heard from fans that you walk through the tailgate area to thank people for coming to the game. Is this a tradition you've always done as Head Coach for the Jackrabbits? What inspires you to connect with the crowd like this?
Coach Stig: It happened about three years ago. I don't get out there every time, based on recruits and other things. I harp on people about getting to the game, via social media, so I thought that if I'm going to challenge them to be here, I should go out and thank them. It's been really fun, I get some good food once in a while, and, really, especially during these cold games, I'm very appreciative of them being there. Every home game is a family reunion.
Laurie, we've heard of a tradition you've started where you make rice krispy treats for the team after every victory. With a team as competitive as the Jacks, making those treats has probably felt like a full-time job! How did this start, and what inspires you to keep it up?
Laurie: It started a long time ago, probably before we even came to SDSU. John was a position coach before we came here. There were 14 guys, so I just made them a little treat after a win. Then, John became a coordinator, so it became half the team. Then, John became head coach, so it involved making them for the whole team! I'm Norwegian, and I love traditions and making food for others. It's just been going ever since. We had Kim Tyler come forward as a corporate sponsor [from Kellogg] to provide cases of rice krispies.
[John interjects that Laurie's made over 24,000 rice krispy bars over the course of his coaching career.]
Are there any other unique traditions you've created over the years, when it comes to Jackrabbit football?
Coach Stig: We like to feed the seniors every year. During fall camp, we gauge their heartbeat and make that connection because we feel it's not our team, but the senior's team. We make it a family. Most programs will say they're a family, and for them, that means they hang around together. For us, both internally and as a couple, we run a lot deeper than that. We recognize players on their birthdays, or, for example, I'm headed to a funeral today for a loved one of a player that's passed away. Those are the type of things that are important to us. I think some of our players are kind of taken aback by it. Like, "You're literally going to say you love me, Coach?" and eventually they end up saying it back.
Coaching the SDSU football team definitely takes a village. How has having a supportive family behind you made a difference in your coaching career?
Laurie: I think we've embraced it. I grew up as a preacher's kid, so I was kind of in a position where everybody owned Dad. We'd be out, and they'd want to talk to the pastor. Being a coach's wife is similar to that. You have to learn to share and to wait your turn. We also make the most of our time together.
Coach Stig (nodding in agreement): Family is important to us.



What makes the personal sacrifice of coaching worth it? How has your whole family embraced the team?
Coach Stig: For me, the greatest victory to make it worth it is when a past player walks down the hallway, who graduated 10 years ago and is now married with two or three little kids, and I get to spend time with him as he talks about how SDSU football impacted him. And I think, how cool is that, that we got to be part of that? That's much greater than playing for a national championship. That feeling is much greater than what we'll have in Frisco, guaranteed.
Laurie: To watch this guy do what he was really called to do – I fully feel he was meant to coach. That makes it really special, and it makes it worth all the hours. My "honey-do" list might keep getting longer, but there'll be payback someday!
We're sure there have been hard times in the past 26 seasons of coaching. What keeps you motivated and inspired to continue on this journey?
Coach Stig: We feel called to do it. God made us so that when we get through tough times, we become stronger. You just have to get through it. So, after tough times, you can look for the growth. Our faith really offsets the potential effects of those hard times.
Laurie: John is known to quote his dad very often. He'll say, "Grandpa Milton always said, 'Anything good takes hard work and time.'" This guy…he believes that, and he perseveres.
Laurie, what is your favorite part of the whole coaching and football lifestyle or Jackrabbit experience? How do you make it work, as a family?
Laurie: I love football. Game day has evolved for us from having four little kids when Coughlin Stadium was here. I'd have one of my kids in a carrier and one hanging onto my shirt…all the way up to the top, we'd go, because that's where our seats were. At the time, I thought that was tough and I was making a big sacrifice, but then they grew up and became involved in activities where I'd have to take them to things by myself. Now, it's a celebration. Our adult kids come back, and they bring their little kids, so there's the joy and not the stress. It's not just the gameday experience, but the relationships, too. There are so many people involved in the game, like coaches and players, where we still have those relationships. In so many years and through so many people, we can't begin to count all the special connections we've made.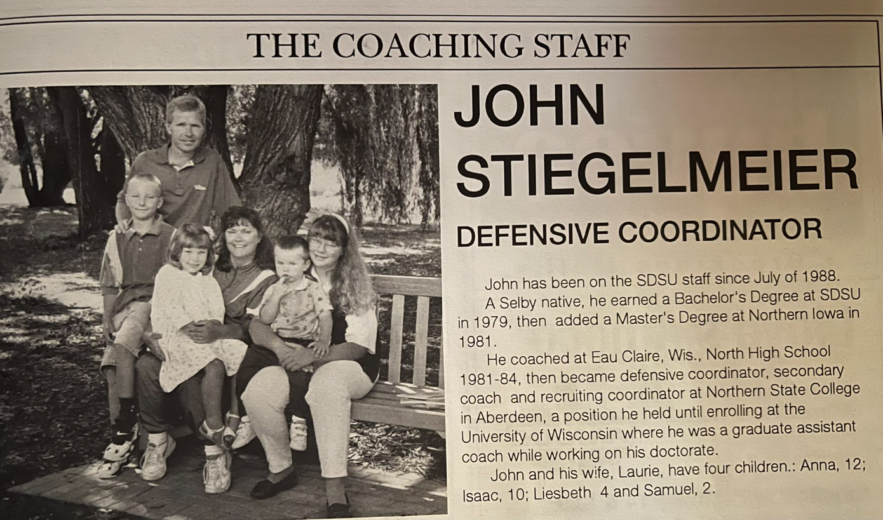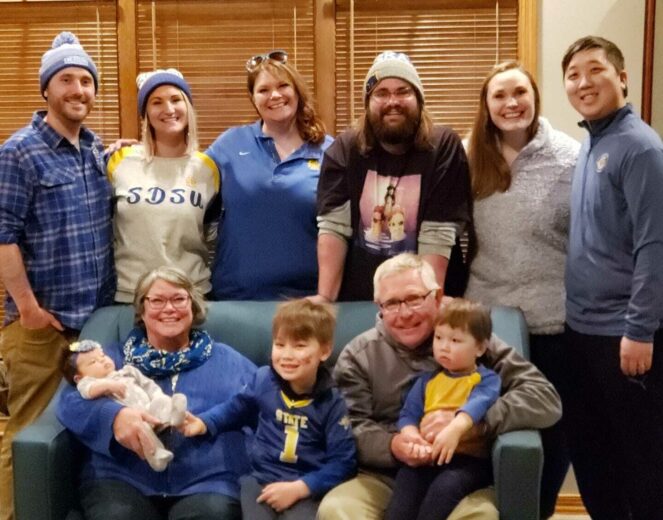 What does it mean to you, both personally and professionally, to have the chance to compete in the FCS national championship?
Coach Stig: In a word, blessed. We're blessed just to be a part of SDSU. It's a great university with great people. I know the football program draws a lot of attention, but we're a small part of a great university. It's exciting, and we're really proud of the program and excited for our players. They've worked hard.
Laurie: I'm excited for John, after pouring himself into this career for so long. To play on the biggest stage is pretty remarkable, and I'm so proud of him.
What's your secret to building a winning team?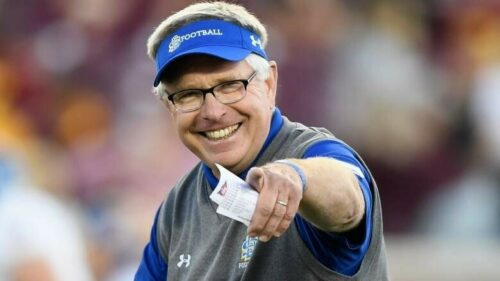 Coach Stig: Love. You'd do anything for your kids, right? Well, that's how we run our program. We want a player to do whatever he can for his teammates, the coach to do whatever he can for his fellow coaches and players. There's nothing stronger or more powerful we can say to an individual than "I love you."
If you had to sum up this year's team in one word, what word might that be?
Coach Stig: Close. Way before we played a game this season, I had a number of older guys come into my office, and they said this is the closest they've ever been as a team. It goes back to love, and it goes back to the commitment they make. It also goes back to our senior leadership and captains, because love also means you hold people accountable because you care for them. We've had players who were going to leave for the NFL, but came back to fulfill their COVID year, and I think a big part of that is because they feel like such a part of this team.
What's a fact about you that the yellow and blue community might be surprised to learn?
Coach Stig: I'm a farmer by upbringing. I like to claim I was raised by a 5020 John Deere tractor. I love to garden, and we have a big garden at home. Laurie loves to grow all the veggies and share them with others.
Laurie (without hesitation): A fun fact about this guy is that he can't throw away a pair of socks!
What makes the SDSU fanbase so special?
Coach Stig: They're passionate. The people that have shown up, at any game really, but especially these games lately, have really shown their love and passion for SDSU football. That's really honoring – they're out there, in the cold with their snow gear on, to support what you do for a living…who else can say that?
How have you seen Jackrabbit Athletics make a difference in the lives of your family, your students, and you?
Laurie: It's dictated our wardrobes for 35 years! Our kids went to school in Brookings and were Bobcats, and we could not bring ourselves to wear red.
Coach Stig: I think it's been in our family's blood, really. I think our student-athletes are really impacted by it, too. Each year, Dana Dykhouse comes to talk with the team and welcomes them. He has a tradition of telling them, "You can't imagine the feeling you'll have when you get done playing here, and the depth of the friendships you've made in this program. Who do you think you're going to call when you have your first baby, when you fall on hard times? It's the people sitting in this room." Most players are sitting there thinking, "No way," but that's exactly what happens.
When people think of Coach Stig, first they think of football, and then M.A.D. (Make a Difference). Can you tell us more about how that philosophy started and the importance of that mindset on your team?
Coach Stig: Years ago, I ran through life not investing. I'd go from one recruit to the next. I told my older brother, Jim, I was going to see this top recruit. Now, this young man was in a dysfunctional home. What I experienced in this home visit should have opened my eyes: from a dad that was not in the right shape when he got home, to just the living conditions…I didn't see that; at the time, I just saw a recruit, a chance to sell, and then the need to get back on the road to the next guy. So, my brother asked me how it went, and I told him the story, and he started crying when he heard it. He said, "Life is short. You need to make a difference." And my brother's life was short – he passed away at age 48 in a farm accident…What my brother said cut me, and it marked me in a good way. We talk about making a difference and having a positive impact in every situation. I expect my guys to lead with that. If there's garbage in the parking lot when you get out of your car, you stop and pick it up. If there's a young girl at a party who's had too much to drink, you get her home safe. Those things matter. So, I attribute M.A.D. to my brother.
If you could put Laurie on the team, what position would you have her play?
Coach Stig: When we interviewed at SDSU, they had a public forum. It was a question/answer thing where the boosters would ask us questions. I remember they directed one to Laurie, and she answered something like, "Well, I am the true head coach." So, I would make her the head coach.
Laurie: If I could choose, I'd choose whatever position would have his blind side.
---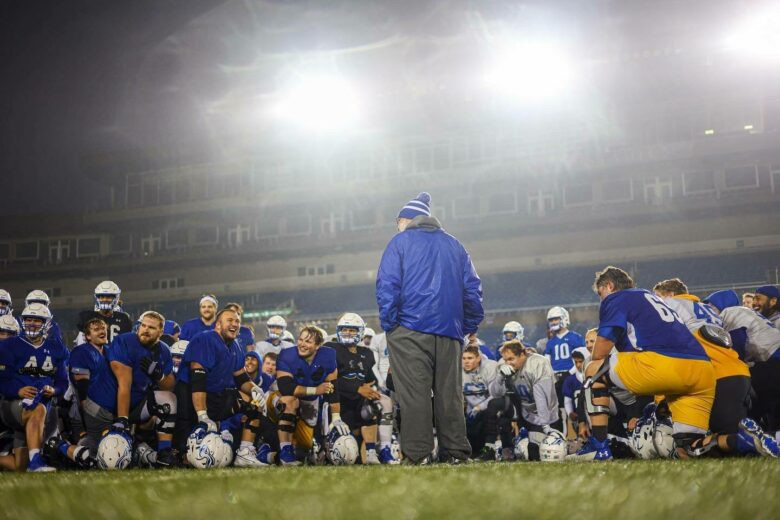 To look around Coach Stig's office and observe the snapshots of his life, the pieces of his past, and the nods to the various chapters of his career, is to take in a work of heart. When he surveys the collection and reminisces on the memories that define him, he offers up one humble word in summary: blessed. As we chat with John and Laurie with Jackrabbit history lying just beyond the corner of one momentous game, the couple is nothing but smiles, banter, and the certainty that they're exactly where they were meant to be.
"There isn't a week that goes by where we don't look at each other and believe that we're living the dream… it's a dream come true, and we are very appreciative," says Coach Stig. "I know there's higher levels and bigger universities and awards and all that kind of stuff, but, for us, it's been perfect."
Be Bold. Give Today.
Give Now