The Art of Philanthropy
The Revell-Dickerson family has exhibited generations of support for the South Dakota Art Museum.
What started as a deep appreciation of the arts has led to one family's multi-generational legacy of generosity at South Dakota State University. Following the passing of 1951 alum Barbara Revell Dickerson, the SDSU Foundation learned of an estate gift that would make history for the university.
Barbara's legacy would provide $2.6 million for scholarships at SDSU, the second-largest endowment for scholarships ever created at State. The gift also designated the South Dakota Art Museum as a beneficiary of the estate, establishing a wellspring of support for an institution the Revell family has long held dear.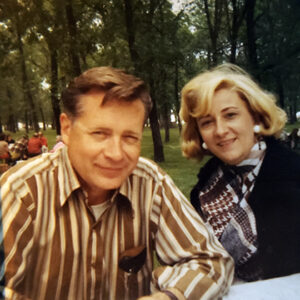 Barbara's passion for the South Dakota Art Museum was an inherited trait that traced back to her mother, Ruth Huchendorf Revell.
Ruth was a graduate of what was then General Beadle State College and would become Dakota State University. Following her schooling, she went on to teach elementary grades in a rural school until her marriage to Frank Revell. Ruth and Frank raised seven children, making for an incredibly busy household and for strong Jackrabbit roots in their family tree – five of their seven children would later become SDSU grads.
Once all seven Revell children were grown and had left the house, Ruth was free to focus her energy on her passion for art. She became an active volunteer at the museum located on her alma mater's campus, welcoming visitors and helping with guided tours through the exhibitions.

Ruth not only relished the chance to surround herself with art and teach others about the various exhibits, but also joined the Community Art Club and began creating her own pieces. For the rest of her life, she crafted artworks of all kinds, adorning the homes of her children and grandchildren.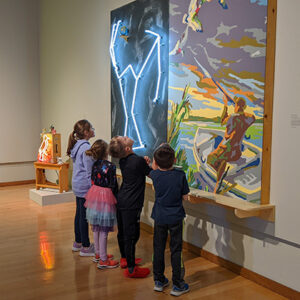 Ruth's avid appreciation for the arts, as well as her lifelong involvement with SDSU, carried on to her daughter, Barbara Revell Dickerson, who – along with her husband, Arthur, and the rest of their family – created the Revell Dickerson Endowment in Honor of Ruth Huchendorf Revell.
The funds will elevate the museum in countless ways, providing financial resources to cultivate and motivate the work of South Dakota artists and to encourage their artistic excellence. Possible future applications and projects for the gift include hosting opening exhibition receptions or bringing in nationally renowned artists for educational purposes that will uplift both the SDSU campus and the Brookings community.

Since 1970, the South Dakota Art Museum has strived to carry out its mission of inspiring creativity, connecting people, and enriching lives through art. As the state's premier visual arts resource, the museum sets the margin of excellence in preservation practices, museum standards, and art education. The facility's seven galleries feature over a dozen new exhibits each year, as well as housing more than 7,000 objects in its overall collection.
"The South Dakota Art Museum is incredibly grateful for the generosity of Arthur Dickerson and Barbara Revell Dickerson and their family. This family's legacy of support for the museum will have a lasting impact on the people of South Dakota and beyond through the exhibitions and educational opportunities made possible through this gift."

-Donna Merkt, Director of the South Dakota Art Museum
With this transformational contribution, the museum is now not only better positioned to continue serving as the state's premier visual arts resource, but will also preserve the legacy of a Jackrabbit family who have exhibited generations of groundbreaking philanthropy.
Ready To Make An Impact?
Give Now