The Last Dance
With the 2023 Summit League Tournament just around the corner, seniors Paiton Burckhard and Alex Arians reflect on their time as Jackrabbits and look ahead to life after basketball.
It's no secret: goodbyes are always hard – especially when the goodbye involves Jackrabbits leaving SDSU, even more difficult when said Jackrabbits are about to leave it all on the court for the final time.
With the Summit League Tournament just around the corner, seniors Alex Arians and Paiton Burckhard are preparing for their final few games on the men's and women's basketball teams, respectively. As invaluable fixtures in Frost Arena over the past several years, we'd be remiss not to seize our chance to hear from Alex and Paiton as they reflect on their journey as Jackrabbits and what lies ahead in their next chapters.
The two have kept busy with far more than just athletics during their time at State. Alex completed an internship at Northwestern Mutual in a financial advising role, gaining firsthand experience in a field he hopes to pursue following graduation. Paiton kept a packed schedule with State-A-Thon, the Student-Athlete Advisory Committee, and past service to the Brookings County Youth Mentoring Program.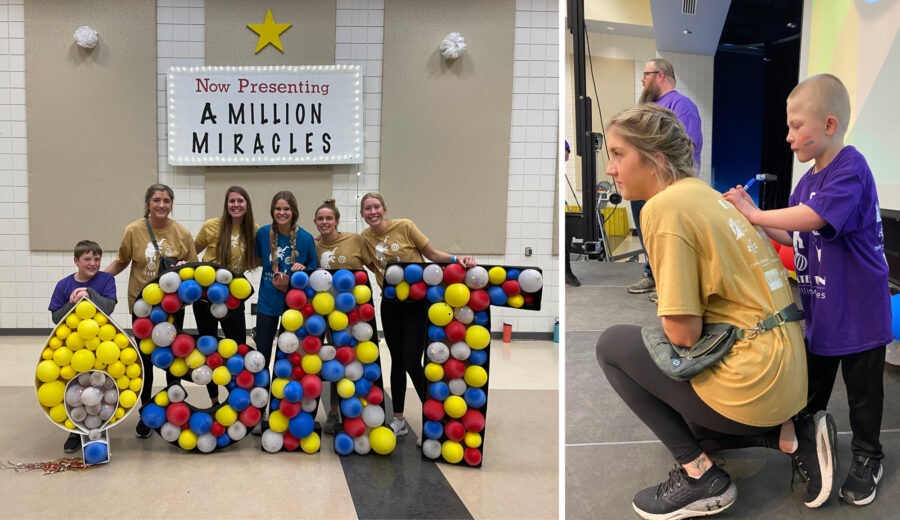 Just like any Jackrabbits at SDSU, Alex and Paiton each have pivotal memories that they're certain will last a lifetime. For Alex, it's the 2022 Summit League Championship victory over North Dakota State University, followed by an unforgettable appearance in the NCAA March Madness tournament.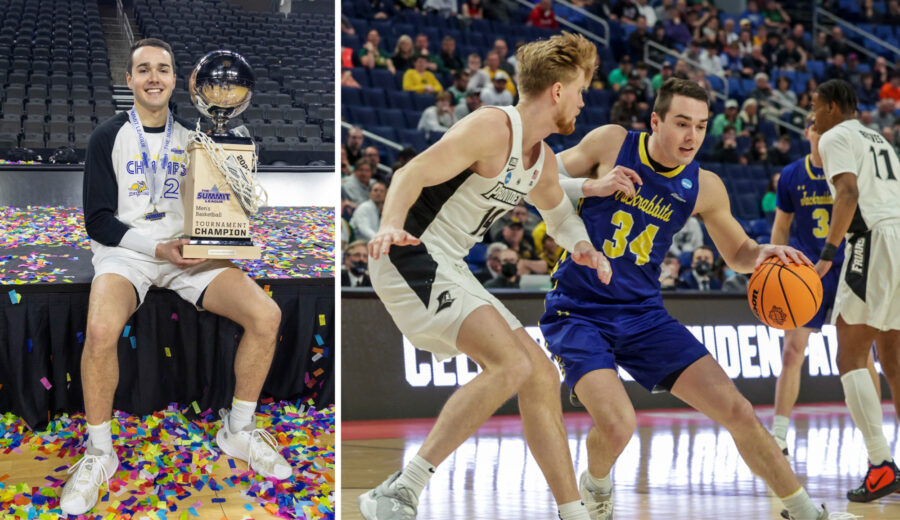 For Paiton, it's a hard-fought win over the University of Alabama during the 2022 WNIT (Women's National Invitation Tournament) run – a night she looks back on with surprising fondness, considering she was elbowed in the face, powered through the remainder of the game, and was stunned to learn after the final buzzer that she'd need stitches.
When asked who they'd count as their #1 fans, both Paiton and Alex answer without hesitation: their families.
From long hours to countless days of travel, from single games to grueling tournaments, from emotional losses to jubilant victories, their families have seen it all, cheering them on without fail. We here at the SDSU Foundation would like to consider ourselves honorary #2 top fans to Alex and Paiton.


After years of hard work, endurance, and the journey of a lifetime, Alex Arians and Paiton Burckhard are ready for one last dance.
---
Picture this: you're about to tip off for another home game for the Jackrabbits. What does that moment feel like?
Alex: It's electric every time I walk into Frost Arena. You can count on our fans always being here and the atmosphere being amazing.
Paiton: There are truly no words to describe exactly what it feels like to be on the court in Frost Arena right before tipoff. The fans bring so much energy and emotion to the game, and you want to win not only for you and your team, but also for them. I have gotten to experience so many fun things, meet so many awesome people, and gain lifelong friendships and family. There's no place I'd rather be.



Growing up, did you always know that you wanted to play basketball at the collegiate level? If so, did you always want to be a Jackrabbit? 
A: I always wanted to play at the college level. I didn't really know a lot about South Dakota State until I visited in high school. After visiting here and meeting a lot of the coaching staff and the guys on the team, I loved it. I saw the culture that the South Dakota State men's basketball team had and wanted to be a part of it.
P: Growing up, I was always around sports in general, but naturally gravitated towards basketball. I didn't necessarily realize or think I could play basketball at the collegiate level until I was in my early high school years, but as soon as I knew there was potential, I wanted to be a part of it. I am a South Dakota girl, so I grew up being a huge fan of SDSU. When the opportunity to be a Jackrabbit came along, I knew it was home.
If we asked your teammates to give you a "most likely to" superlative, what would they say about you?
P: Most likely to hang out with my dog all day!

What are your plans after graduation? How did SDSU prepare you for those goals? 
A: I interned in a financial advising role at Northwestern Mutual last summer, calling people and looking into retirement plans, investment plans, anything that can meet their financial goals. SDSU prepared me for that by constantly pushing me and challenging me in every aspect of life. Whether that be going to classes, doing schoolwork, or on the court, athletes have to adapt on the go every single day. I believe SDSU did a really good job preparing me for all of that.
What inspired you to study your chosen major?
P: I have always known that I want to work with people in whatever career path I chose, but I didn't want to be a teacher. That was when being a speech therapist and studying speech-language pathology popped into my view. The flexibility to work with people of a very wide age range and for a huge variety of reasons brought me a lot of excitement and ultimately is the reason I am so interested in the field.
How did you react or feel when you first heard the news you were receiving a scholarship?
A: I was kind of shocked, because it was actually my first scholarship I got. I hadn't had a Division I offer prior to that. I always remember getting the call, and I was shellshocked because playing Division 1 basketball was something my older brother got to do, so it was always a goal of mine.
P: When I first heard that I would be receiving a scholarship, I honestly couldn't believe it or even necessarily grasp what it meant at the time. I knew it was super special and that I was lucky. It wasn't until I was in college and more on my own financially that I realized how fortunate I was to receive a scholarship.
How has your time at SDSU impacted who you are today? 
A: I think there's some things that athletics can teach you that the classroom can't – like being on a team every single day, working with a lot of people, just building relationships with those around you to reach a common goal. I think what I've done academically and just coming to practice with our program each and every day has prepared me and challenged me in ways that maybe the classroom can't and prepared me for goals after college.
P: My time at SDSU has really made me appreciate being from the state of South Dakota; the support and never-ending love I get as an athlete and as a student from the community of Brookings is unmatched. I will forever know that the reason I am as hardworking, independent, and goal-driven is in huge part due to the experiences I have had at SDSU.



Anything else you'd like to share with Jackrabbit Nation?
A: I want to thank Jackrabbit Nation for all the support they've given me over the last six years. South Dakota State basketball as a whole has been tremendous, and I really think Jackrabbit Nation is a part of that. I'm just thankful I can be a small part in that.
P: I love you, Jackrabbit Nation. You are truly the reason why my time at SDSU was so special. Thank you for being my home.
---
The die-hard Jackrabbits have remained overwhelmingly dedicated to State basketball, invested in the personal growth, limitless opportunity, and invaluable experience found at SDSU.
If it hadn't been proven by last year's rogue elbow to Paiton's face, we'd swear these seniors truly bleed blue.
Alex Arians and Paiton Burckhard are ready to finish their Jackrabbit careers strong

It'll be a March the yellow and blue community will always remember, led by two players we'll never forget.
Be Bold. Give Today.
Give Now