Schramm Pioneers Endowed Professorship
1963 alum Vern Schramm has established the first endowed faculty position in the College of Natural Sciences.
"The answer is curiosity – wanting to understand something at the most fundamental level." This viewpoint expressed by Dr. Vern Schramm sums up his distinguished career and trailblazing research, both of which trace back to his education at South Dakota State University.
Hailing from Howard, SD, Schramm's naturally curious nature led him to pursue a degree in bacteriology at State. It also led to his master's and doctorate from other prestigious universities, a post-doctorate at NASA Ames Research Center, and eventually to his current role as an endowed chair at the Albert Einstein College of Medicine on cutting-edge cancer research. He is regarded as one of the world's pre-eminent enzymologists.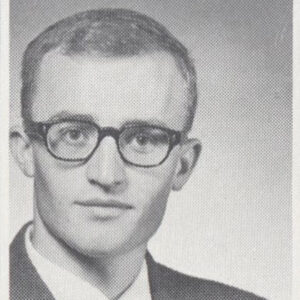 Now, the 1963 alum and his wife of nearly 60 years, Deanna (Hogarth) Schramm, have made a commitment to create the first endowed position within SDSU's College of Natural Sciences. SDSU has a goal to reach 50 endowed positions university-wide. As of January 2022, there were commitments in place for 43.
While the endowed position will create an impact for Jackrabbits for generations to come, Schramm's desire to advance knowledge and fuel discoveries has been long in the making. At age 10, his parents, Roger and Goldie Schramm, gifted him his first chemistry set – and the rest was history, igniting a passion for science that would last a lifetime.
"I've always been fascinated by how things work," said Schramm in a video produced by the Albert Einstein College of Medicine. "I remember one of my earlier thoughts of awe about science was looking at the sky in South Dakota…to see those billions of stars, thinking about the depths of time and the infinity of space – a future not yet within our grasp really fascinated me."
"Premier institutions like SDSU and great departments like we have in chemistry and biochemistry have inspiring faculty, creative researchers, and engaging teachers," said Dr. Doug Raynie, Department Head of Chemistry and Biochemistry. "Gifts like this endowment from the Schramms not only benefit the honored faculty member, but provide a spark to allow us to continue to attract the brightest faculty and students."
Dr. Raynie said faculty members who will be honored with the Schramm Professorship will be able to "continue to push the frontiers of science with the funds provided, touching the lives of the students they encounter and the society that benefits directly or indirectly from their research."

"The story of Dr. Vern Schramm from small-town, rural South Dakota to success on the world's biggest stage, in the city that never sleeps, should be inspiring to all students and faculty that enter South Dakota State University. We are honored and humbled that the Schramms have remembered us with this important and substantial gift."

Dr. Doug Raynie, Department Head of Chemistry and Biochemistry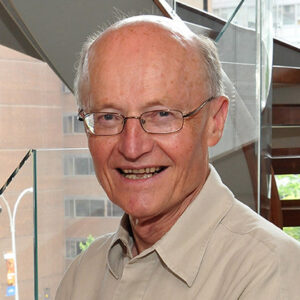 With the Schramm Professorship and its endowed funding, educators and students alike will be offered greater opportunities to follow their curiosity, pursue pivotal discoveries, and prove that one person – especially a single Jackrabbit gazing up at the night sky with wonder – can help to solve complex challenges, securing a bright future fueled by bold innovations.
Schramm followed that fascination and determination to learn to SDSU, arriving in 1959. He helped pay his way through college by working in the chemistry stock room and microbiology labs.
He and three other students split the $60-a-month rent at their house at 809 9th Street, located less than three blocks west of the Campanile. Schramm was the designated cook, with each roommate chipping in $5 a week for groceries.
He met Deanna during Hobo Day 1961; they married 16 months later, after he began work on his master's degree at Harvard. He earned his doctorate in the mechanism of enzyme action from Australian National University in 1969.
At the Albert Einstein College of Medicine, Schramm initiated the development of compounds called transition-state analogues, which inactivate enzymes involved in numerous human diseases. They bind specifically to their enzyme targets – thousands of times more powerfully than most other enzyme inhibitors yet developed. This binding of analogue to enzyme short-circuits disease by preventing enzymes from catalyzing their normal reactions.
In 2017, Schramm's analogue for treating peripheral T-cell lymphoma was approved for use in Japan, the first Einstein-developed drug ever to reach the marketplace. A transition-state analogue against the Ebola and other viruses is being developed.
Recognized as one of the world's preeminent enzymologists, Schramm was elected in 2007 to the National Academy of Sciences, the nation's most prestigious honorary society for scientists. He is the holder of the Ruth Mems Chair in Biochemistry at the Albert Einstein College of Medicine. In recognition of his bold scientific discoveries, Schramm was honored as an SDSU Distinguished Alumnus in 2009.
Continuing his legacy at SDSU, Schramm and Deanna made a $1 million commitment in their estate plan for the Vern Schramm Professorship in Chemistry and Biochemistry. The endowments provide stipends and other enhancements to faculty members, rewarding the high-quality work of State educators and researchers.
Ready To Make An Impact?
Give Now