When One Day Becomes Some Day
One Day for STATE is a chance to make a difference at every stage of life as a Jackrabbit.
Most traditions start with one historic day, a singular event that sparks a reaction and inspires a reoccurring occasion fueled by nostalgia and camaraderie.
The more people participate, the more a tradition gathers steam, accumulates pomp and festivity, and in the case of One Day for STATE, becomes a primary source of Jackrabbit spirit.
The tradition of One Day for STATE also started with people, united in a common goal and showing up near and far for a university we all hold dear. It began with multiple generations of students, faculty, staff, and friends asking themselves, "Together, what could we do? What difference could we make?"
SDSU's annual giving day has become a beloved tradition not because of the dollars raised, or the nail-biting ambition of a 24-hour goal, or even the programs impacted at the university.
What sets One Day for STATE apart are people driving the event, connecting with a family of thousands of alumni, and proving year after year that there's nothing the yellow and blue community can't do when we work together.
For Cassie Hendricks and Nick Lorang, the annual giving day is a chance to make a difference as a student, as a graduate, and for every stage of life as a Jackrabbit.

Cassie Hendricks is a 2018 alum who continued her career at SDSU with a master's degree in 2020, followed by an assistant coach and recruiting coordinator position with the State swim team. Even during her days of competing for the team herself and garnering all-Summit League honors, Cassie made a point to give back on One Day for STATE as a student.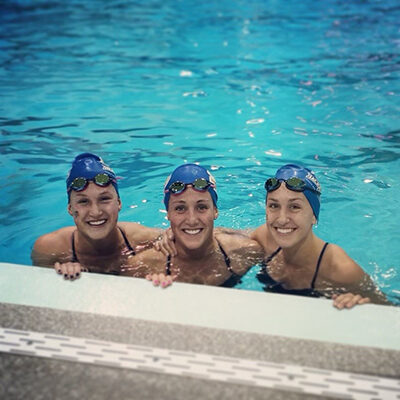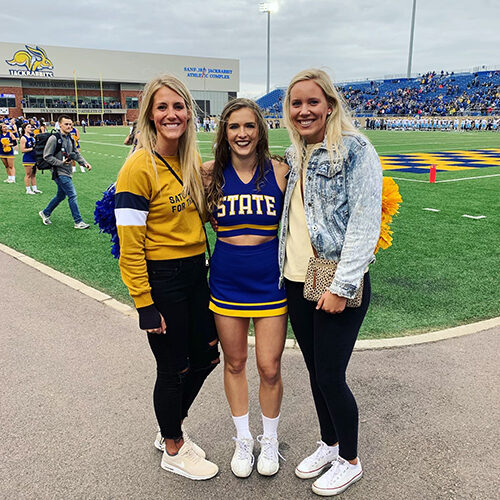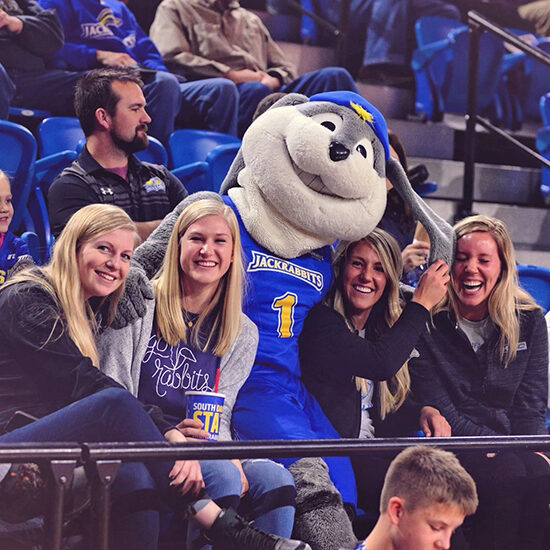 "I knew that even if I couldn't make the biggest donation, joining in to be a part of something so much bigger than myself does have a massive impact," Cassie explains. "It's so amazing to know that it's not just our local community that comes together, but it's our Jackrabbit family all over the world working together to make magic happen."


Joining in the One Day for STATE excitement is a tradition now for Cassie as a staff member, carrying on the philanthropy she began as a student. She credits her motivation to give back as a way to recognize the impact of her undergrad years and all of the people who "added an infinite value to her life": coaches, athletic support, advisors, and friends. As the university has played such a big role in Cassie's life and career, she hopes to play a role in making a difference for Jackrabbits to come.
"The people here at SDSU are what makes our Jackrabbit family so special. To be able to keep supporting our Jacks family with a donation, no matter how big or small, is an incredible feeling." - Cassie Hendricks



A 2017 graduate, Nick Lorang's years as a student involved a hectic schedule of juggling organizations like the Hobo Day Committee, the Pride of the Dakotas, and the Honors College. During his time as an undergrad, Nick noticed the day-to-day impact of his annual gift on One Day for STATE, seeing the difference made for student areas in need.
Now a marketing manager for Lemonly, an infographic design company that collaborates with big-name clients like Netflix, Nick continues to support the organizations that gave him invaluable experiences as a student.
"As a loyal SDSU fan and someone who's just excited about leaving a legacy at State, giving back to a few of my favorite organizations is a way of participating in that sense of enthusiasm we have as a community," explained Nick. "It's a chance to join in on the fun and pride of being a Jackrabbit."
He describes the 24-hour whirlwind of One Day for STATE as infectious, invigorating – and for alumni like him, a healthy dose of nostalgia. The event offers a chance to revisit campus, take part in a beloved tradition, and support the extracurriculars that he cherishes most. For one pivotal day, organizations like Nick's favorites have a chance to shine and benefit through uniquely localized philanthropy.
"One Day for STATE is a great excuse to celebrate SDSU, reconnect with friends and classmates, and share in the excitement and pride of being a Jackrabbit. That sounds like a great day to me."

Nick Lorang
"One Day for STATE is a great excuse to celebrate SDSU, reconnect with friends and classmates, and share in the excitement and pride of being a Jackrabbit," said Nick. "That sounds like a great day to me."
One Day for STATE is a testimony to the impact that each of us can have, and the role we can play, in shaping the bold future of SDSU. For students, it's the chance to witness the ripple effect of their own generosity, taking in the opportunities and innovations made possible by a gift as small as five dollars. For faculty and staff, it's a day to dream without limits for new avenues of education and envision the heights to which our premier standard of learning can soar. For alumni, it's a day to revisit the glory days of roaming campus, paving the way for a new generation of students.
And in some cases, each of those reasons can play a role in giving back. One Day for STATE is a day for common ground, for working together, and for an annual reminder to all of us: once a Jackrabbit, always a Jackrabbit.