Built on Tradition, Powered by a Vision
Celebrating its 100th anniversary, Little International continues to be one of SDSU's most respected traditions.
If you're a part of the yellow and blue community, chances are you've either participated in Little International or know someone who has.
Better known as Little "I", the nation's largest, two-day student-run agricultural exposition celebrates its 100th anniversary on March 31—April 1, 2023.
The beloved event has withstood the test of time, weathering historic ups and downs and evolving into one of the university's most iconic occasions.
In honor of its landmark centennial, our team explored the journey of Little "I" and what makes it so special.
A Borrowed Beginning
Little International took root at the university in 1921, modeled after the International Livestock Show held in Chicago during the twentieth century.
The first iteration of Little "I" was a livestock-only exposition, led by a staff of just 11 people.
Organizers of the event also drew inspiration from the Chicago show's custom of dyeing wood chips green and using them to establish the official space for the competition's arena. Today, Little "I"'s student manager and assistant manager carry out the dyeing of the wood chips, a vast undertaking that's become just as iconic as the event itself.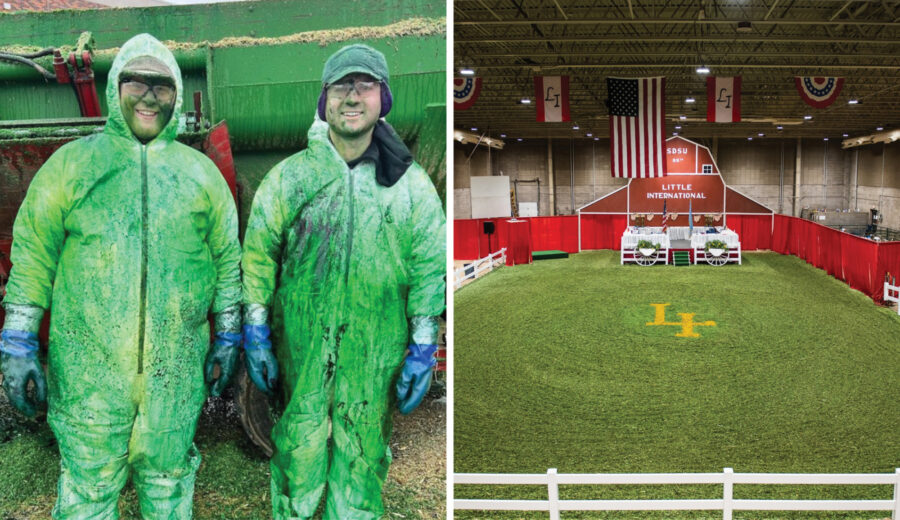 Debuting in the Agricultural Heritage Museum on campus, Little "I" featured a hodgepodge of eclectic activities that would eventually fall off the event lineup.
In the 1940s, attendees took in a unique program that included clowns, tap dancing, rope twirling, a Shetland pony polo game, a greased pig contest, a cow milking contest, and a competition for an annual Ag Queen.




Gradual Growth
Very few of the original contests stemming from the twentieth century endured to what we know as Little International today.
One such tradition held out and remains a key symbol of the event: the red barn backdrop.
The barn was added to Little "I" in 1947 and makes an appearance each year, offering a space for each student manager to sign their name on the back, among the many Jackrabbits who helped define Little International over the years.

While the activities in Little "I"'s program continued to fluctuate, the event grew in popularity over the decades, steadily outgrowing each selected campus venue.
The competition shifted from the Agricultural Heritage Museum in 1952, migrating to the Intramural Building (commonly known as The Barn).
With the growth of the exposition, Little "I" again moved to accommodate its hordes of competitors and spectators, finding a home in the Animal Science Arena in 1977, where it draws people of all ages from around the Midwest each year.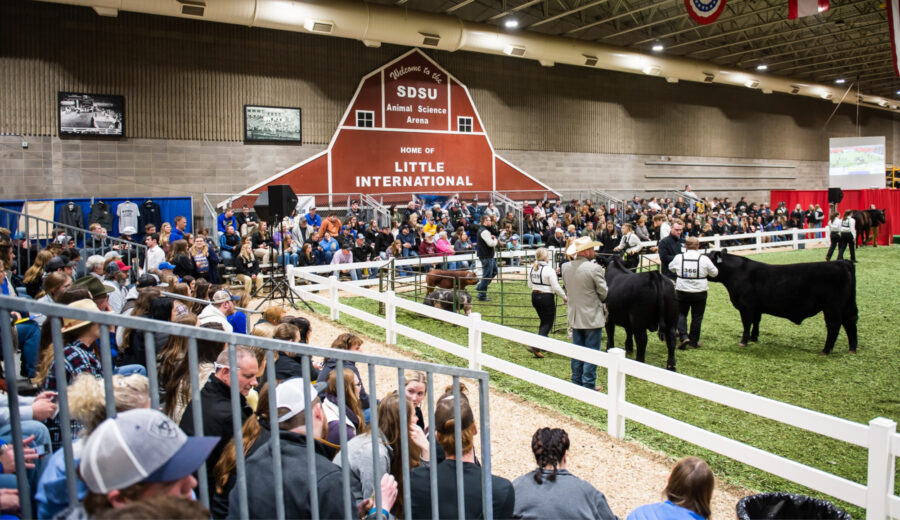 Over the last century, Little International has soldiered resiliently on as one of the region's leading livestock expeditions. Throughout its storied 100 years, the event has only been canceled four times on record: in 1926, due to the Scarlet Fever epidemic; in 1944 and 1945, stemming from World War II; and in 2020, as a result of the COVID-19 pandemic.
Regardless of the ebb and flow of history, Little "I" is known for operating under two mantras: the show must go on, and Jackrabbits are just the people to see it through.
A Stage for All Students
Planned and executed solely by students, Little International is overseen by a staff selected each fall semester. Together, the many faces behind the exposition meet monthly to strategize and plan until the big day.
In 2023, over 160 staff members serving on over 40 different committees to carry out all the crowd favorites of Little "I," like contests for agronomy, ag product sales, natural resources, veterinary sciences, ag mechanics, and more – including perhaps the most well-known element: livestock judging.
Offering both novice and experienced categories, contestants can show horses, goats, sheep, cattle, and pigs with a critical caveat: exhibitors must draw for an animal at random in advance of the competition, where they are granted an abbreviated timeframe to prepare an animal that they're unfamiliar with.


The playing field is leveled between students who are accustomed to showing livestock and those who are entirely new to judging; in effect, Little "I" is accessible to anyone interested in experiencing it.
Whether you're a spectator or contestant, Little International offers a rich tradition of legacy and learning, with countless opportunities for networking, career-building, and leadership. The fun and competitive atmosphere provides an environment where college students, as well as students of all ages from around the region, have the chance to develop and refine essential skills for the field of agriculture.
A Legacy of Learning
It's impossible to know whether or not the Jackrabbits who first attended the International Livestock Show in Chicago in 1921 knew the inspiration they drew and the event they built would endure as one of the university's most treasured traditions.
They likely couldn't have imagined the trajectory of the exposition would continue strong long past their own lifetimes.
They couldn't have predicted the lifelong memories and invaluable opportunities that would come or realized the indelible influence Little "I" would have on our future agricultural innovators.
Little International is a testament to not only how the Jackrabbit family shapes our traditions, but how our traditions shape us.
*Note: The Agricultural Heritage Museum has prepared an immersive exhibition about the history of Little International, available and free to the public beginning April 1, 2023 and running through the 2024 celebration. Visit the campus site where it all began to learn more!*
---
There's nobody better than a lifelong Jackrabbit to hear what makes Little International so special.
We caught up with Andrea Schubloom, a 2019 agricultural communications major now working as a Marketing and Communications Coordinator for the College of Agriculture, Food and Environmental Sciences at SDSU.

Andrea has been participating in Little "I" since middle school. Even following commencement, her role at State still allows her to help oversee all the behind-the-scenes work that students put in to make sure the event remains just as iconic and irreplaceable as ever.
HOW DID PARTICIPATING IN LITTLE "I" INFLUENCE YOUR JACKRABBIT EXPERIENCE?
Knowing that I was participating in a tradition with such a rich history on campus made my experience even more memorable. It was fun to be a part of such a passionate group of students!
I served on the Little "I" staff for three years – first on the Booth and Banquet Committee and, later on, the Executive Committee, where I oversaw several other student sub-committees. During my senior year, I was also responsible for designing the nearly 100-page Little "I" catalog.
IF A STUDENT WERE CONSIDERING PARTICIPATING IN LITTLE "I," BUT WASN'T QUITE SURE IF IT WAS FOR THEM, WHAT ADVICE MIGHT YOU GIVE THEM?
Give it a try! That's the great thing about Little "I." It's for everyone, no matter your major, experience level, or background.
WHAT IS YOUR FAVORITE THING ABOUT LITTLE "I"?
Little "I" brings people together from both near and far. Whether it's the nearly 2,000 middle school and high school students from several surrounding states or current SDSU students across campus, it is so cool to see how many people participate. Not to mention the hundreds of alumni – whether they attend in person or watch the shows online, Little "I" reaches people from all over the United States!
Be Bold. Give Today.
Give Now